May 18. By Dave Yochum.  Fourth of July rolls off the tongue like fireworks and watermelon, but author David Fleming says the right day to celebrate American independence is May 20 because on that date 248 years ago the Mecklenburg Declaration of Independence was signed.
Sadly it was destroyed in a fire in 1800. Eye-witness accounts survive, says Fleming, author of the newly published "Who's Your Founding Father?: One Man's Epic Quest to Uncover the First, True Declaration of Independence." (Hatchette Books, $29; Kindle, $15.99.)
The Davidson resident, a noted journalist at Sports Illustrated and ESPN, will be talking about his new book Saturday, May 20 at Lost Worlds Brewery in Cornelius between 12:30 pm and 7 pm. (Details below.)
Fleming says there are clear signals that May 20, 1775 is the real Independence Day, including:
—Our state flag has that date emblazoned across the top over the NC
—Gen. Cornwallis dubbed the region a Hornet's Nest, based on the cantankerous nature of local citizens—and the name stuck.
"The MecDec hides in plain sight all around us, to a remarkable level," Fleming says, explaining that eyewitness accounts confirmed the existence of the original document.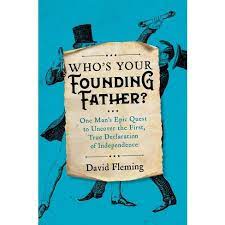 When President John Adams heard about it, he confronted Thomas Jefferson, who, quite understandably, got all huffy, original letters show.
Fleming's research indicates Jefferson was "far more dark, dangerous and duplicitous than I could have ever imagined. When you peel back the hagiography on Jefferson the idea of him plagiarizing the MecDec seems almost like the least of his sins."
Revolutionary thinking, Mr. Fleming.
You can find out more about the MecDec, Jefferson, Adams and Fleming's work at Lost Worlds on Saturday, MecDec Day. Lost Worlds will be releasing a new beer, too: MecDec Honey Ale.
MecDec Day schedule at Lost Worlds
12:30: Welcome: Scott Syfert, May 20 Society co-founder, on MecDec Day and its significance
1:15 – 2: Book sales and author signing; merchandise give-aways
2 – 3: Conversation with David Fleming, author of Who's Your Founding Father
3 4: Book sales and author signing
4 – 4:30: MecDec Honey Ale TENTtalk. Beer education and tasting under the tent
4:30 – 5: Book sales and author signing
6 – 7: Moderator Interview, readings, audience Q/A