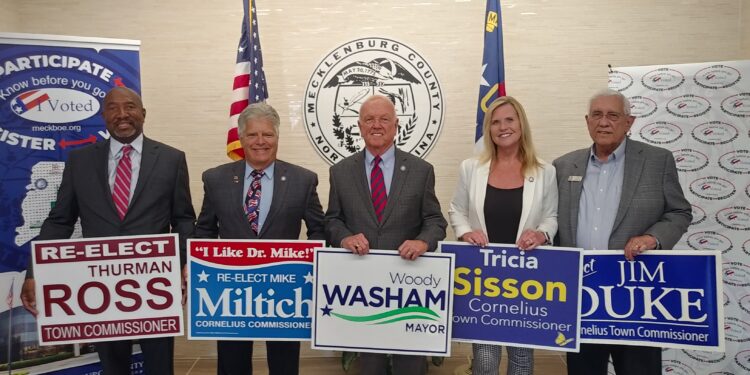 July 6. By Dave Yochum. Four incumbents on the Cornelius Town Board have filed to run for re-election, along with Woody Washam Jr. who is seeking a third term as mayor.
Also filing on Friday were fellow commissioners Jim Duke, Michael Miltich, Thurman Ross and Tricia Sisson. The fifth commissioner, Denis Bilodeau, says he will file for re-election Wednesday morning.
Former Commissioner Dave Gilroy has said he plans to run again. He could not be reached for comment this morning.
Filing closes July 16
Filing closes July 16 at noon. Any thing can happen between now and then, including multiple candidates for any office.
Washam previously served as town commissioner and mayor pro tem.
A banker a former chamber chairman, Washam was born and raised in Cornelius. He began playing the organ at Mt. Zion United Methodist Church when Lyndon Johnson was president.
"To be able to file and run along side of our current commissioners made this filing even more special as this board is so qualified, hard working and committed to all that is good for our town," Washam said.
The Cornelius form of government is a weak-mayor system, in that the mayor has no formal authority. He or she doesn't vote, and cannot directly appoint or remove staff. There's no veto power, either.
Davidson
Davidson Mayor Rusty Knox also filed to run for his third term. Candidates filing as of 11:30 am Tuesday include Jane Campbell and Autumn Rierson Michael, both incumbents, and Ryan Fay.
NOON UPDATE: Dan Ryan has filed to run for commissioner in Davidson.
Huntersville
Mayor John Aneralla is not seeking re-election in Huntersville. Melinda Bales, mayor pro tem, has filed to run for mayor. Those having filed to run for commissioner as of Tuesday morning include Rob Kidwell, Derek Partee and Nancy Reed.
All three towns have non-partisan elections where candidates' party affiliation is not listed on the ballot and the political parties generally don't provide support for the candidates. According to the University of North Carolina School of Government, this form of election emerged during the Progressive Era as a way to remove politics from city and town administration.
Photos by Dave Yochum