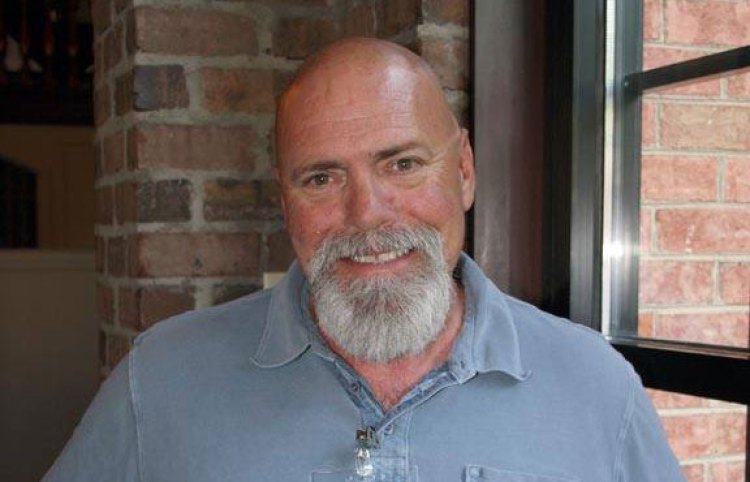 By Kate Stevens. The future of Davidson lies in collaboration and team work with other north Mecklenburg towns and the city of Charlotte, said Davidson Mayor Rusty Knox.
"Regionalism is going to be very important for how our area survives and succeeds," said Knox. "Those relationships have to be built up and that's going to be my job."
Speaking at the Business Today Newsmakers Breakfast at The Peninsula Club, Knox field questions from audience members eager to learn which issues Knox will focus on during his two-year term as Davidson mayor.
Knox has political service, as well as real estate, in his blood.
A native of Davidson, Knox is the fifth member of his family to be elected to public office.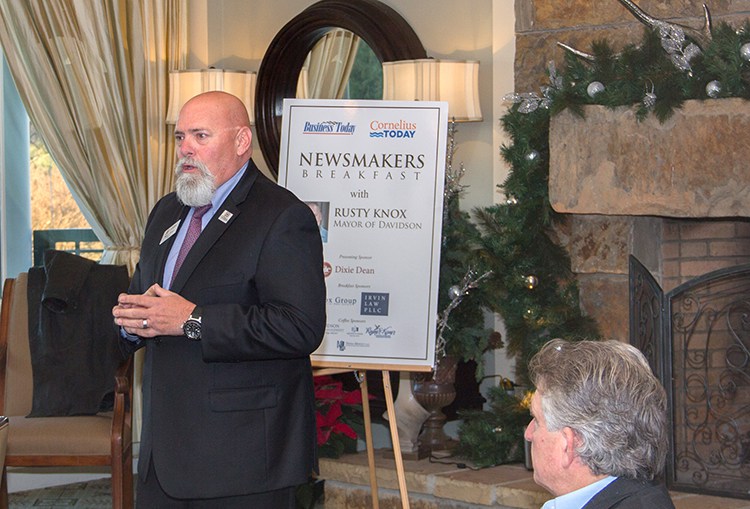 His father, Russell Knox, served as Mayor of Davidson from 1985 to 1995, and his uncles Eddie and Joseph V. Knox are the former mayors of Charlotte and Mooresville, respectively. The Knox family ran a real estate business in Davidson for many years before being acquired by Allen Tate.
Knox's cousin, Gary Knox, is the former mayor of Cornelius.
During the Nov. 7 election, Davidson voters sought a change in leadership with voter turnout increasing to 37 percent in 2017 from 15 percent in 2015, according Kristen W. Mavromatis, Mecklenburg County public information manager.
Knox soundly defeated longtime Davidson mayor John Woods while four political newcomers also ousted two incumbents running for the town Board of Commissioners to round out the five-seat board.
Knox said during the breakfast he was looking forward to establishing relationships and working with the new board of commissioners in Davidson, as well as Cornelius Mayor Woody Washam, Huntersville Mayor John Aneralla and Mooresville Mayor Miles Atkins.
"At the end of the day we're the red-headed stepchild for Mecklenburg County and with 12,000 people, you're not going to get anything done," Knox said. "But with Cornelius and Huntersville together, we have 100,000. We have a voice."
Knox said he has also met with new Charlotte Mayor Vi Lyles and several of the city's new council members.
"The mayor's power is influence," said Knox. "I'm a people person. That's what I do. I'm going to continue to reach out to people…"
Knox also discussed issues facing Davidson such as the city's contractual obligation to subsidize an annual debt service for Continuum, formerly Mi-Connection, a cable and Internet system servicing not only Davidson but Cornelius and Mooresville, as well.
Since then, the town of Davidson has been forced to pay the company's multi-million debt in annual fees.
He has spoken with Mooresville leaders on developing an exit strategy, Knox said.
Since the town entered into the agreement with then Mi-Connection in 2007, the communication company's debt has been paid down from $93 million to $67 million, Knox said.
The publicly owned and operated company first turned a profit last year but debt service exceeds the company's profit by $5.5 million, Knox said.
As a result, Davidson and Mooresville face a $5.5 million loss each year Continuum doesn't make a profit, Knox said.
"If technology takes that next leap, we could be stuck with a $50 million note…." Knox said. "I'd rather be out sooner than later."
What could help pay down this debt is expanding the town's commercial tax base, an issue on which Knox campaigned during the election, he said.
Currently, 60 percent of the town's ad valorem taxes come from residential property taxes, which means Davidson has the second-highest tax rates in Mecklenburg County, Knox said.
Managing growth smartly is another hot topic for the town. Historically, the town has been good at building houses and town homes, but now town leaders need to figure out how to incorporate more affordable housing, Knox said.
But, high-density housing is not the model Knox said he wanted to see in Davidson.
"A regional approach for affordable housing is something I think has to be done," Knox said, in agreement with Washam's stance that the two municipalities work together on the issue.
The Newsmakers Breakfast was sponsored by Dixie Dean of Allen Tate Real Estate, Aquesta Bank, Davidson Wealth Management, Donna Moffett Accountants, Irwin Law Firm, The Knox Group and Raymer-Kepner Funeral Home.