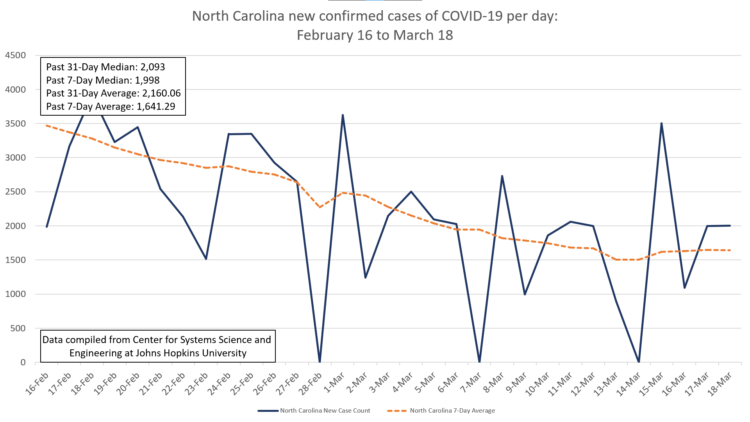 March 18. The median of new coronavirus cases over the past seven days (1,998) in North Carolina is running 4.5 percent below the median during the past 31 days (2,093), based on COVID-19 data supplied by Johns Hopkins University.
The NC Dept. of Health & Human Services today reported 1,915 new COVID-19 cases, down from yesterday (2,004).
There were 22 new COVID-19 related deaths statewide.
Hospitalizations were at 970 today, down from 1,780 exactly one month ago.
Testing
The statewide positive test rate is at 4 percent. Mecklenburg County Public Health is reporting 5.1 percent county-wide.
Mecklenburg
During the week ending March 17, an average of 179 laboratory confirmed infections per day were reported in Mecklenburg County compared to the 14-day average of 167 confirmed infections. This represents a slight increase over the last 14 days. These data are based on Mecklenburg resident cases. The NCDHHS reported 205 new cases in Mecklenburg.
Deaths
There were 22 new deaths statewide according to today's NCDHHS report. In Mecklenburg County, there were two new deaths in today's report.
North Mecklenburg
Cornelius: 4 new cases, 2,602 cumulative; 24 deaths total.
Davidson: 6 new cases, 1,487 cumulative; 15 deaths total.
Huntersville: 10 new cases, 5,314 cumulative; 47 deaths total.