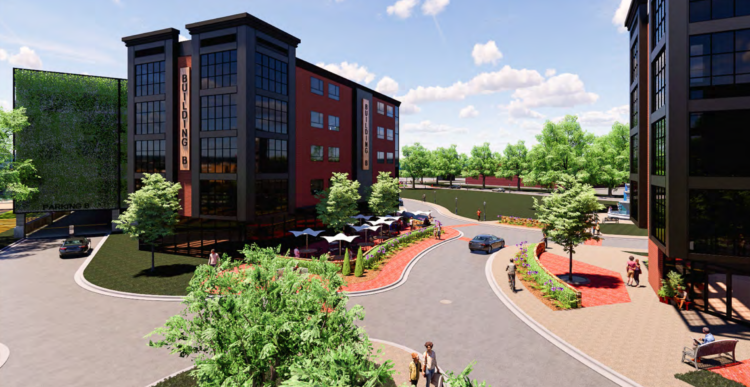 March 1. By Dave Vieser. The first public hearing on the Sefton Park Development—one of the largest mixed-use developments ever proposed for Cornelius—will take place Monday March 1 beginning at 5 pm.
This will be the first opportunity for public comment on this project planned on 10 acres between Sefton Park Road near the CATS station and West Catawba.
Hotel and conference center
Jack Shaw and Don Shaw plan 344 multi-family units, commercial space and a hotel site/conference center on property that has been an eyesore for years.
The property was stubbed in years ago with streets that are now overgrown and in disrepair.
Part of the development is on the other side of Sefton Park
An additional lot which is part of the proposal is located on the southeast corner of Sefton Park and One Norman Blvd, adjacent to the CATS facility.
Commercial space
The proposed development includes 7,800 square feet of commercial space.
The meeting starts at the new, earlier time, 5 pm. Residents can watch the meeting live via the Town's Facebook page and website.
Here's how to comment:
—Via Zoom. Register by noon the day of the Town Board meeting and be prepared to join the meeting at 4:30 p.m. for audio/video testing.
—Via email toTownofCornelius@Cornelius.org
—In-person, with several precautions, including mandatory masks (even when speaking) and touchless temperature checks. No audience seating will be available in the Assembly Room. Speakers and guests may wait in the lobby or Community Room, with appropriate physical distancing.