Aug. 10. [Opinion] Since the owners don't want to remove it, I wonder if there is a way to turn the Confederate Monument into a symbol of forward motion, as a tool to teach and learn from history?
Taking it down doesn't erase history, and vandalizing it doesn't change its original intention from 1910. Can we embrace it, expose it, and rewrite what it means NOW? In 112 years, what has changed for the better? These symbols only hold the power they are given; so take away its power.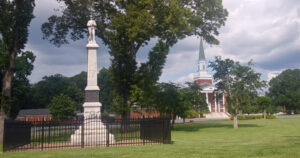 It reads: "THOUGH MEN DESERVE / THEY MAY NOT WIN SUCCESS / THE BRAVE WILL HONOR THE BRAVE / VANQUISHED NONE THE LESS."
They lost that fight, they did not succeed in their attempt to keep the Black community down. The brave are NOT them, or those like them.
The brave are the ones who push forward every day to fight a good fight, even if it is to gain an inch at a time, for equality for ALL people.
—Jennifer Claussner, Cornelius