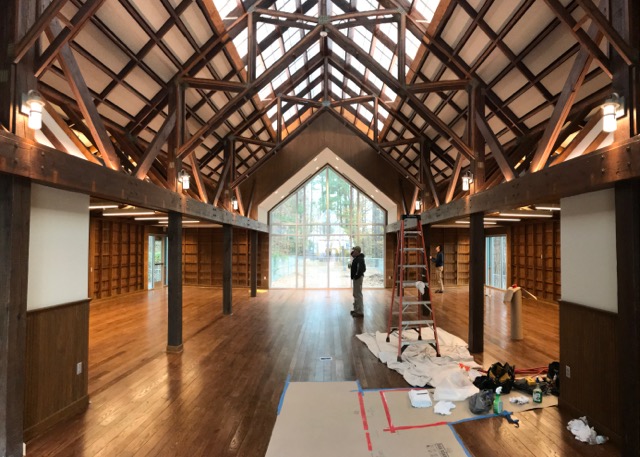 The renovation of a Jetton Park landmark is finally complete. The park's distinctive lakefront pavilion and bike barn—once an open-air alpine-style facility for bike rentals—has been refurbished into an enclosed, upscale special event hall.
Complete with stunning sunset views, Mecklenburg County officials hope it will be a popular venue for weddings, family reunions and even county meetings. There has long been a shortage of event space in North Mecklenburg.
The 2,500 square-foot building will hold 120 people and offers a kitchen and restrooms. It's adjacent to the building where Precinct 242 voters cast their ballots during election times.
Mecklenburg County Park and Recreation held a grand opening Feb. 20 at 11 a.m. in Jetton Park.  The pavilion's renovation has been nearly two years in the making.
County park officials and designers with C Design, Inc., a prominent Charlotte-based architectural firm leading the design of the Cornelius Arts Center, gave a community presentation in April 2016 detailing plans for the pavilion.
Construction began in March 2017 and was slated to be completed by last summer but permitting issues and complications with utilities slowed things down, said Paul Krynski, project designer with C Design.  All the buildings in Jetton Park share the same address and the same utility lines, complicating permitting, inspections and coordination with several of the local utilities.
The $1.1 million capital renovation project also included the enclosure of the building with glass and insulation.
Bringing the building up to today's energy codes while minimizing the visual impact of insulation on the structure proved challenging for a 26 year-old building that was never designed to provide heat or air conditioning, Krynski said.
The pavilion's Lake Norman views, gazebo and beach has made the Jetton Park plaza a popular spot for weddings.
The county sought to redesign the space after receiving feedback from rental customers who wanted more room, said James Williams, park planner with the Mecklenburg County Park and Recreation Department.
The building's utilization of natural light, new design and premiere lakefront location "will make it a real quaint space for romance," Williams said. The county also replaced the roofs of the plaza's two other buildings that were used as office space with restrooms and storage, said Williams.
The popular walking and biking trail that previously went through the bike barn now goes around it, Williams said.
A new walkway that is compliant with the Americans with Disabilities Act was also constructed, Williams said.