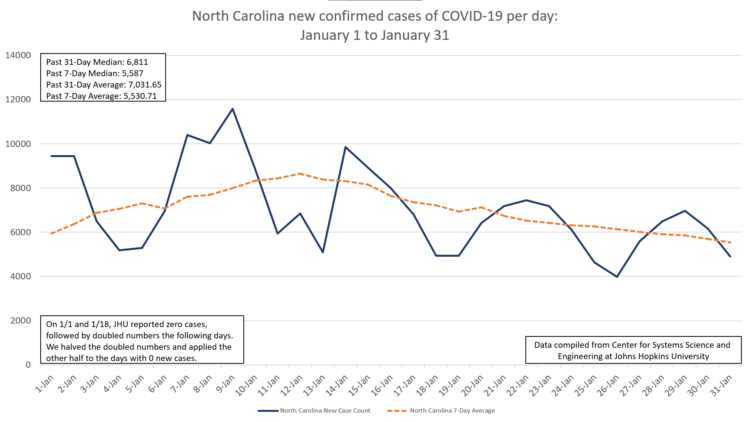 Feb. 1. By Dave Yochum. The median of the past seven days of new coronavirus cases in North Carolina is running 18 percent below the median number of new cases during the past 31 days, based on COVID-19 data complied by Johns Hopkins University.
As of Jan. 26, the median of the prior week was only 5.8 percent below the preceding 31 days.
The NC Dept. of Health & Human Services today reported only seven new COVID-19 related deaths statewide, down from 48 yesterday, and more than 100 deaths on each of the preceding four days.
Hospitalizations fell as well: 2,781 as of noon today, down from 3,287 exactly one week ago.
There were 3,776 new cases statewide, compared to 9,365 new cases statewide on Jan. 2 and 11,581 one week later on Jan. 9.
Deaths
There have been a total of 9,342 deaths statewide according to today's NCDHHS report. There were two new deaths over the weekend in Huntersville, for a total of 760 deaths countywide due to COVID-19 since the outbreak began almost a year ago.
Testing
The statewide positive test rate is at 9.7 percent; 11.2 percent in Mecklenburg.
Vaccines
According to Johns Hopkins, 914,217 doses have been administered in North Carolina, but only 1.18 percent have been fully vaccinated.
Mecklenburg
In Mecklenburg County, the NCDHHS reported 466 new cases.
North Mecklenburg
Cornelius: 9 new cases, 2,219 cumulative; 21 deaths total.
Davidson: 7 new cases, 1,211 cumulative; 12 deaths total.
Huntersville: 18 new cases, 4,552 cumulative; 42 deaths total.