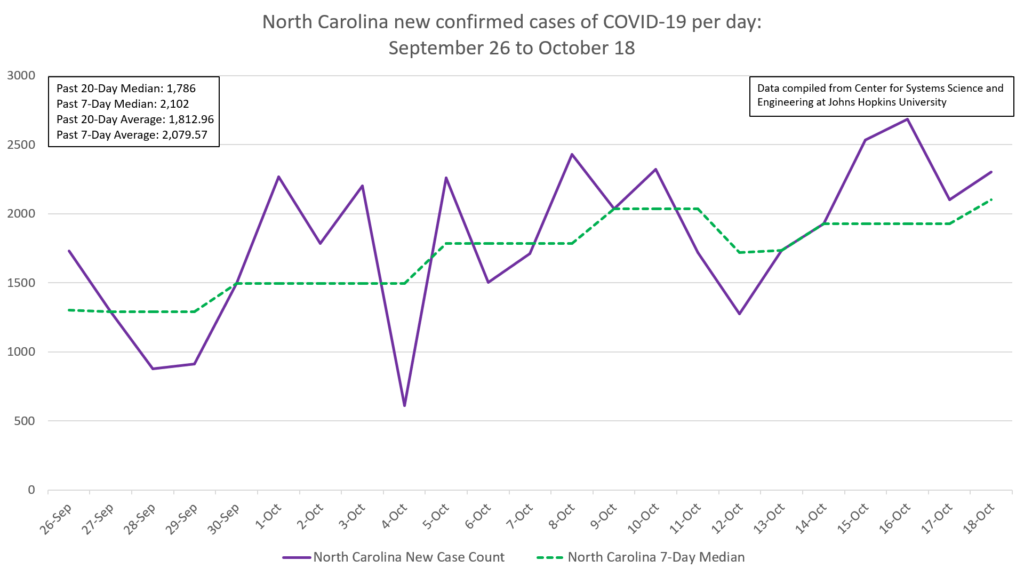 Oct. 19. The NC Dept. of Health and Human Services today reported 1,144 new cases statewide of COVID-19, down from 2,303 new cases Thursday.
Over the past seven days there has been a 17.7 percent increase in the median number of new cases compared to the median over the past 20 days.
(On Sept. 25, the NCDHHS changed its COVID-19 new case reporting methodology. Cornelius Today has opted to calculate comparisons from Sept. 26 to now.)
Tests, meanwhile, are coming back positive at the rate of 5.7 percent statewide, down from 6.1 percent yesterday. The goal is less than 5 percent.
Deaths
There were five new deaths statewide due to COVID-19. A total of 3,939 North Carolinians have died because of the COVID-19 pandemic.
Hospitalizations
Hospitalizations rose by 13 patients to 1,142 statewide, according to today's NCDHHS report.
Mecklenburg
Mecklenburg County's positive tests are coming back at the rate of 4.9 percent. The rate has climbed slightly from Tuesday last week, when it was reported at 4.3 percent.
There were 132 new cases reported in Mecklenburg, down from 246 new cases yesterday. The county-wide total is now 31,820.
There were two new deaths in today's report, for a total of 376 county-wide.
North Mecklenburg
Cornelius: 4 new cases, 632 cumulative total; 16 deaths total.
Davidson: 1 new case, 333 cumulative total; 6 deaths total.
Huntersville: 4 new cases, 1,162 cumulative total; 14 deaths total.