*Update: Hundreds of people are gathered on the bridge over I-77 at exit 28. The procession lasted a half hour.
Cornelius Police Chief Kevin Black says the procession of First Responder vehicles in honor of Mooresville Officer Jordan Sheldon is preparing to leave Calvary Church at around 1 pm.  He estimates its arrival in Cornelius sometime between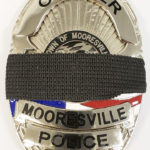 1:40 and 2 pm. The timing, of course, cannot be precise because of all the logistics between here and Charlotte, as well as the size of the procession. The northbound ramp onto I-77 will be closed.
Officer Sheldon was shot and killed during a routine traffic stop.