May 10. UPDATED. Funeral services for Mooresville ​K-9 ​Police Officer Jordan Sheldon will be held today in Charlotte, ​with the funeral procession afterward traveling north on I-77 through Cornelius to Mooresville where it will disband.
Hundreds of first responder vehicles are expected to pass through Exit 28, sometime after 1 pm FRIDAY.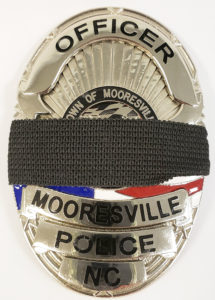 The funeral service for Officer Sheldon begins at 11 am on Friday at Calvary Church, 5801 Pineville-Matthews Road​ in Charlotte.
At the conclusion of the service a procession with hundreds of law enforcement vehicles will make its way from Calvary to the Mooresville Police Department.
The procession will travel I-485 to I-77 north to Exit 33, according to Cornelius Police.
As the procession nears Exit 28 and through the duration of its passing, the I-77 North on-ramp will be closed.
This will cause some delays in traffic and those wishing to travel north should utilize Hwy. 115.
The manager of Sweet Dreams Mattress at 20647 Catawba said those who wish to pay their respects are welcome to park in their parking lot, just to the east of I-77. MarineMax at 9209 Westmoreland said their property is also open to the public for viewing.
Managers at Lake Norman Chrysler Jeep says there is very little parking available at the dealership on the west side of I-77.
Cornelius Police say the closing of the ramp will impact traffic and cause a minor inconvenience for some motorists.
"We just ask everyone to be patient as we honor our fallen brother," Cornelius Police Chief Kevin Black said.
Some schools in Iredell County announced they will allow students to get out of school early Friday so they can line the procession route through Huntersville, Davidson, and Mooresville.
Sheldon was shot and killed during a traffic stop last weekend in Mooresville.