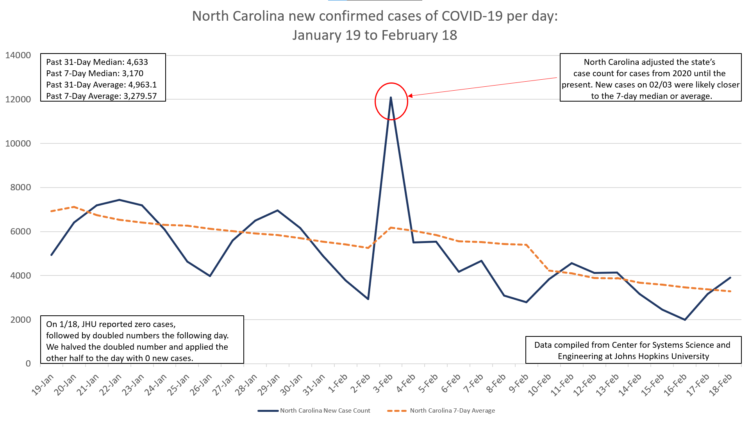 Feb. 19. By Dave Yochum. Nearly 1.2 million first doses and more than 600,000 second doses have been administered in North Carolina, according to today's report from the NC. Dept. of Health & Human Services.
Scientists had a head start in developing the vaccines thanks to years of previous work to develop vaccines for similar viruses.
New cases
Meanwhile, the volume of new coronavirus cases during the past week (3,170) was 31.5 percent lower than the preceding 31 days (4,633) in North Carolina, according to data collected by Johns Hopkins University. (See chart.)
The NC Dept. of Health & Human Services today reported 3,227 new cases.
Hospitalizations
Statewide hospitalizations fell to 1,780 from 1,892 yesterday. Only two weeks ago there were 2,523 people hospitalized due to COVID-19.
Deaths
Statewide there were 54 new COVID deaths in today's report, down from 96 yesterday. Total dead is now at 10,820 statewide.
Testing
The statewide positive test rate is now at 5.7 percent. However, the Mecklenburg positive test rate is at 8.1 percent, with the goal being 5 percent or less.
Mecklenburg
There were 288 new cases of COVID-19 county-wide, for a total of 94,306 since the outbreak began last year. A total o 833 people have died due to the coronavirus county-wide.
North Mecklenburg
Cornelius: 9 new cases; 2,423 cumulative; 21 deaths total.
Davidson: 7 new cases; 1,370 cumulative; 15 deaths total.
Huntersville: 17 new cases; 4,972 cumulative; 46 deaths total.