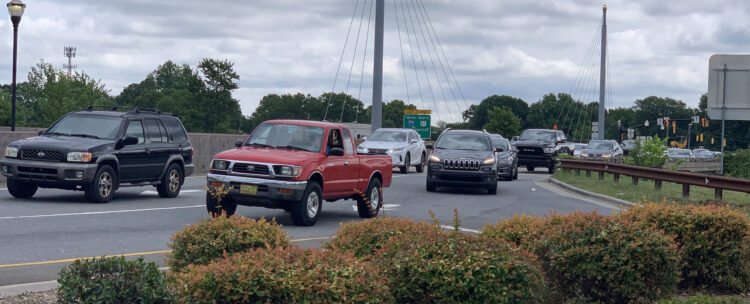 June 9. By Dave Vieser. The infamous Diverging Diamond of Exit 28 Ridiculousness fame is on the Town Board's radar, not to mention town staff.
"We gotta get this fixed immediately," Commissioner Denis Bilodeau said to Deputy Public Works Director Tyler Beardsley at the Town Board's June 7 meeting.
The problems:
—A walk button at Torrence Chapel Road malfunctioned, creating longer cycles for the signal.
—Communication issues between the signal at Torrence Chapel and One Norman.
—The corridor is exceeding capacity
—Motorists are blocking traffic on the bridge, creating further congestion.
Fixes this week?
Beardsley said the electronic communications issues are being worked on this week. Meanwhile, the  NCDOT has a corridor study due to be completed within a week.
The NCDOT has ordered new signs for DDIs warning motorists to not block intersections.
Kansas-based Rhythm Engineering was once hailed as the solution to the DDI's problems.
Safety benefits negated
Commissioner Michael Miltich said that the benefits of the DDI design become overshadowed when gridlock results in no flow at all.
No time to wait
"This is not something that we can wait weeks for. We need to speak about days, not weeks. If Rhythm cannot get this fixed, I hope you guys have a Plan B which can be implemented."
—Denis Bilodeau, commissioner