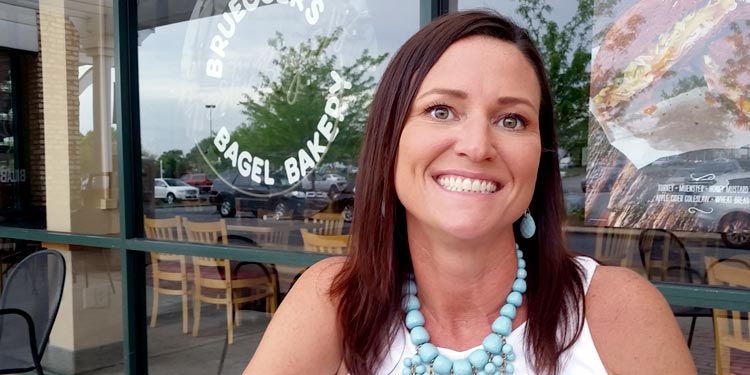 Amanda Dudley created Facebook group to watch
By Dave Yochum. Amanda Dudley isn't exactly a household word in Cornelius, but thousands of people know her. As of last week the Facebook group she created, Exit 28 Ridiculousness, was fast approaching 2,200 members.
The description of her page is crisp: "Take advantage of all the time you are stuck sitting at exit 28 and document the absurdities."
And people do. To such an extent that people notice. Bill Russell, the head of the Lake Norman Chamber, was a frequent poster. Sen. Jeff Tarte still is.
About Tarte, Dudley says: "The only person I've seen engaged is Jeff Tarte. … He started commenting. … I like that he is active and open and he hears. He has heard people's concerns and he has made changes."
Among them was an odd one-way sign at an I-77 off-ramp onto Catawba Avenue. When Tarte saw the discussion on Exit 28 Ridiculousness, he had it removed.
"I know Jeff has gained fans and he has gained voters, just by listening and responding," Dudley says. "There's 2,100 people and they're talking about the changes they want to see. … It's like a virtual town hall."
She credits Tarte, a former mayor of Cornelius, for raising the profile of the page which has transitioned from mostly griping about the new bridge to gripes about the bridge, complaints about traffic on I-77 and the plan to widen it with toll lanes, recommendations for hair stylists and restaurants, traffic tips, information and links to articles on toll lane failures around the country, lost pets and where to get the best beef jerky and babysitter.
This story unfolded on her page April 20: A Cornelius resident, differently abled and employed at Harris Teeter, had his sole means of transportation, a motor scooter, stolen. When a note about that went up on
Exit 28 Ridiculousness, as well as a link to gofundme dot com, $1,500 came in.
For others, the page can be treacherous. An out-of-area dentist, who quite oddly advertised $450 crowns for new patients in Cornelius and Huntersville—not Davidson—was eaten alive. Some local merchants advertise special consignment sales, hardwood flooring, a 1958 Cadillac and even group garage sales at storage businesses.
Four-letter words are not uncommon, however, so the Exit 28 Ridiculousness environment is not for the faint of heart—or banks, funeral homes, insurance companies and accounting firms.
Dudley is delighted. For this mother of four, Exit 28 Ridiculousness is a little bit like TV. "I turn it on, grab the popcorn and wait," she says.
Free speech is an awesomely cool thing, and Exit 28 Ridiculousness is solid Americana. Dudley says there are about "30 real, hard-core players" who will tackle and discuss just about any issue, especially having to do with I-77.
Local politicians generally discount the page, saying the 2,100-plus followers don't necessarily live in Cornelius. None post or comment, except Tarte and Dr. Michael Miltich, who has soft-launched his campaign for Town Commission.
"They view me as the troublemaker. … I don't do anything at all, I don't have to," Dudley says. As the marketing manager for a Big Four accounting firm, Dudley may know modern communication technologies inside out, but she started Exit 28 as a lark, a joke, and she never guessed that it would explode in popularity.
"On my personal page, friends were taking pictures of workers [on the Diverging Diamond Interchange] not doing anything, and I thought, 'wouldn't it be funny if we could create a Facebook page where we could put all those pictures? … So that's what happened. I just invited my friends and they invited their friends and it grew," Dudley says.
Born and raised in Endicott, New York, the Victoria Bay resident says she loves Cornelius, having moved here from Huntersville and, before that, Charlotte.
"I love the lake. It feels like you have a vacation in your backyard. The sense of a small community. The weather," she says.
The aesthetic improvements to the I-77 bridge were a waste of money, she says, and the plans to widen I-77 with a public private partnership and toll lanes are "literally highway robbery."
Despite having a platform and a following Dudley says she has no plans to run for public office. "I don't have the time and I don't have the interest either," she says.
Nevertheless, Dudley has started a movement and it has grown organically.
"I'm proud of it, I think it is a really neat thing to know that an action as simple as creating a Facebook page brought 2,100 neighbors together. … We all had the same frustration, but there was no place for everyone to get together and voice those opinions. That page is full of educated, smart, witty people that know what they are talking about. I know I have learned a lot from the posts and comments. I've seen change as a direct result of the page," she says.