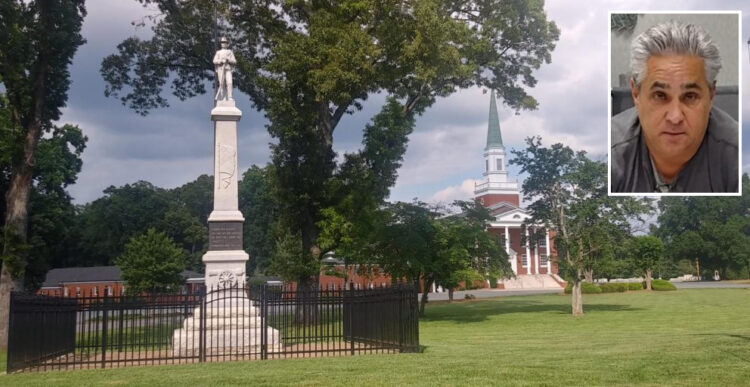 Oct. 27. By Dave Yochum. More than a century and a half after the Civil War ended, Cornelius developer Jake Palillo has offered to foot the bill to move the Confederate monument in front of Mt. Zion United Methodist Church.
Palillo said this morning he will also pay to store the 110-year-old statue and pedestal.
Since 2015 when white supremacist Dylann Roof shot and killed nine Black people at Emanuel AME Church in Charleston, Confederate monuments have been taken down or moved in many parts of the country—including nearly two dozen of them in North Carolina.
But the local monument, which sits less than a mile from Town Hall, rests on a tiny parcel of property that is not owned by the church. It sits prominently on the expansive front lawn.
Leaders of the church have already called on the Mt. Zion Monumental Association to remove it, but so far they have been ignored.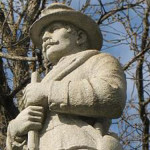 Donald Archer, the Statesville resident who has spoken for the association in the past, did not respond to Cornelius Today for comment.
The monument has been defaced at least twice and has since been fenced in.
Dedicated in 1910 during the annual reunion of members of Company K, 56th NC Regiment, it includes the Confederate battle flag and a Confederate soldier standing at parade rest, with his rifle resting on the ground. The Confederate monument in Cornelius cost $10,000 in 1910, the equivalent of roughly $250,000 today.