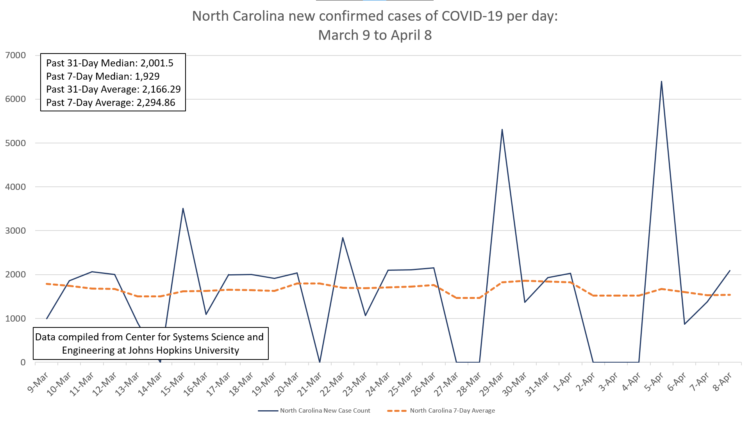 April 9. The NC Dept. of Health & Human Services today reported 2,509 new cases of COVID-19 statewide, ahead of yesterday's 2,087 new cases and the median of 2,001 daily new cases over the past month. (See chart; data provided by Johns Hopkins University. We do not count zero days, which would include Saturdays and Sundays.)
Today's NCDHHS new case count is the highest since late February.
Hospitalizations
Statewide, hospitalizations fell to 977, down from 1,004 yesterday.
Testing
The statewide positive test rate fell to 4.6 percent in today's report, down from 5.1 percent yesterday.
Deaths
There were 24 new deaths statewide attributable to COVID-19 for a total of 12,248 since the pandemic began.
Vaccinations
Forty percent of North Carolinians have been partially vaccinated; 28 percent fully vaccinated.
Mecklenburg
There were two new deaths in Mecklenburg County, as well as 355 new cases, up from 251 new cases yesterday and 141 new cases the day before.
North Mecklenburg
Cornelius: 11 new cases, 2,746 cumulative; 24 deaths total.
Davidson: 4 new cases, 1,595 cumulative; 15 deaths total.
Huntersville: 17 new cases, 5,592 cumulative; 48 deaths total.