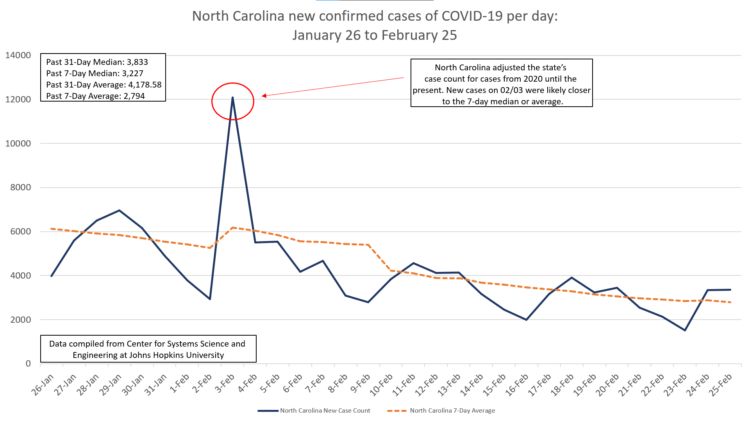 Feb. 26. With COVID-19 restrictions easing at 5 pm today, the NC Dept. of Health & Human Services is reporting more than 784,000 North Carolinians have received both doses of the Moderna and Pfizer vaccines.
That's almost twice as many as two weeks ago.
The median number of new cases over the past week (3,227) is down 15.8 percent from the median volume over the past month (3,833). (See chart: Data from Johns Hopkins University.)
There were 2,924 new cases in today's report from the NCDHHS.
Hospitalizations
Statewide, hospitalizations fell to 1,465, a three-month low.
Deaths
There were 49 new deaths statewide attributable to the coronavirus, for a total of 11,186 since the outbreak began in North Carolina a year ago. There was one new death in Mecklenburg County, for a total of 855 COVID-related deaths county-wide.
Testing
The statewide positive test rate is at 4.7 percent, finally below the 5 percent goal two days in a row. The Mecklenburg positive test rate is 6.5 percent.
Mecklenburg
In Mecklenburg County, the NCDHHS reported 300 new cases.
North Mecklenburg
Cornelius: 8 new cases, 2,498 cumulative; 21 deaths total.
Davidson: 6 new cases, 1,420 cumulative; 15 deaths total.
Huntersville: 24 new cases, 5,093 cumulative; 47 deaths total.