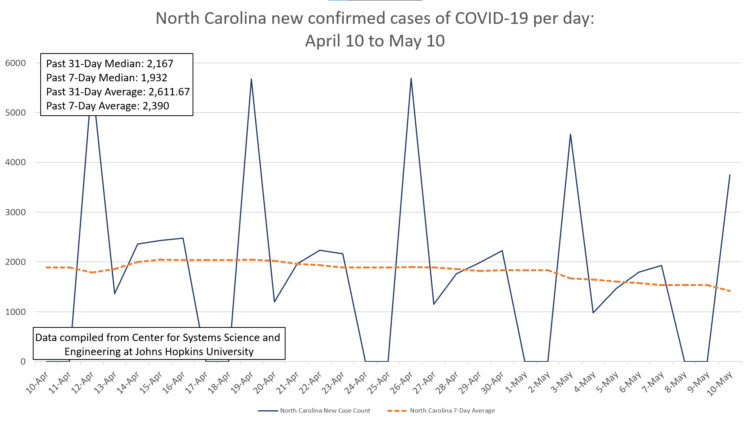 May 11. The NC Dept. of Health & Human Services today reported 699 new COVID-19 cases, a steep decline from the volume earlier this year. The median of the past seven days of reported results (1,932 cases) statewide is 10.8 percent below the median of the past 31 days (2167 cases). (See chart; data from Johns Hopkins.)
On Jan. 9 the NCDHHS reported more than 11,000 new cases on a single day.
Hospitalizations
Statewide, hospitalizations were at 968, down from 1,050 on Tuesday a week ago.
Deaths
There were 11 new deaths attributable to COVID-19 statewide in today's report.
Testing
The statewide positive test rate was at 5.5 percent percent in today's report. Mecklenburg County was at 5.8 percent.
Mecklenburg
86 new cases from yesterday to today; 1 new death
North Mecklenburg
Cornelius: 5 new cases from Monday, 2,859 cumulative; 25 deaths total.
Davidson: 3 new cases from Monday, 1,669 cumulative; 15 deaths total.
Huntersville: 3 new cases since Monday, 5,948 cumulative; 50 deaths total.