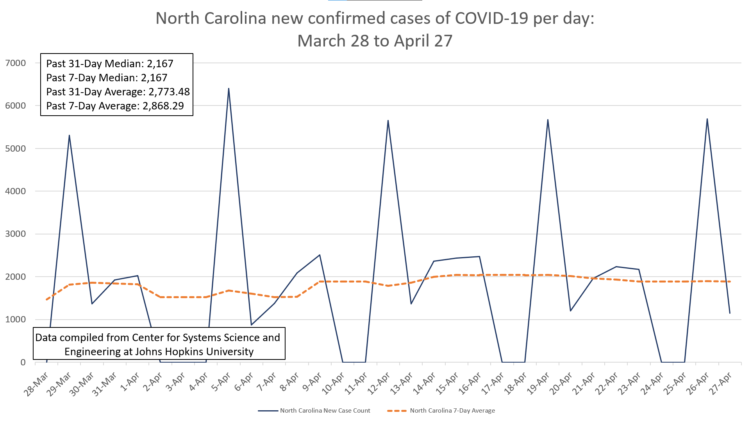 April 28. The NC Dept. of Health and Human Services today reported 1,765 new cases of COVID-19 statewide. But the median number of new cases statewide during the past seven business days is now running even with the median number of new cases over the past 31 business days—in both cases 2,167—based on data collected by Johns Hopkins University.
Hospitalizations
The NCDHHS today reported 1,117 people hospitalized statewide due to COVID-19, compared to 1,168 one week ago.
Deaths
There were 36 new deaths attributable to COVID-19 statewide in today's NCDHHS report.
Testing
Positive tests are coming back at the rate of 6.2 percent statewide, 6.9 percent in Mecklenburg.
Mecklenburg
In Mecklenburg County, there were 174 new cases, down from 198 new cases one week ago. In Mecklenburg, there were no new deaths from yesterday's report to today's.
North Mecklenburg (change from yesterday)
Cornelius: 1 new cases, 2,824 cumulative, 25 deaths total.
Davidson: 2 new cases, 1,647 cumulative 15 deaths total.
Huntersville: 10 new cases, 5,828 cumulative, 49 deaths total.