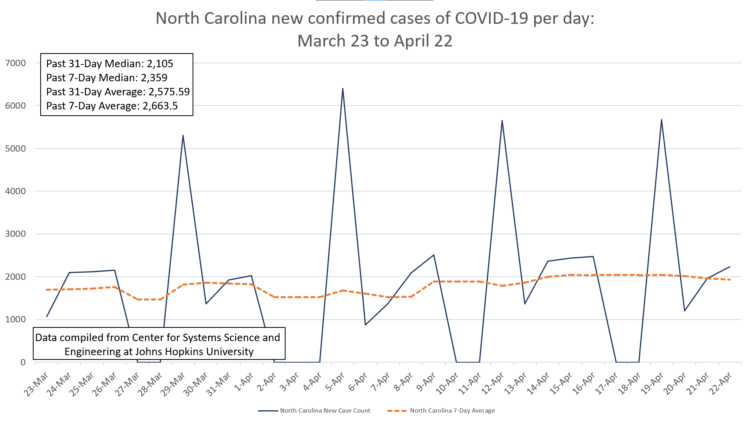 April 23. By Dave Yochum. The NC Dept. of Health and Human Services today reported 2,167 new cases of COVID-19 statewide.
The median number of new cases statewide during the past seven business days (2,359) is now running 12 percent above the median number of new cases over the past 31 business days (2,105), based on COVID-19 data collected by Johns Hopkins University.
Hospitalizations
The NCDHHS today reported 1,145 people hospitalized statewide due to COVID-19, compared to 1,064 one week ago.
Deaths
There were 18 new deaths statewide in today's NCDHHS report.
Mecklenburg
In Mecklenburg County, there were 274 new cases, and one new death.
Testing
Positive tests are coming back at the rate of 5.1 percent statewide, 7.3 percent in Mecklenburg. The goal is 5 percent and trending down.
North Mecklenburg (change from Friday April 16)
Cornelius: 5 new cases, 2,805 cumulative, 25 deaths total.
Davidson: 1 new case, 1,632 cumulative 15 deaths total.
Huntersville: 13 new cases, 5,781 cumulative, 48 deaths total.