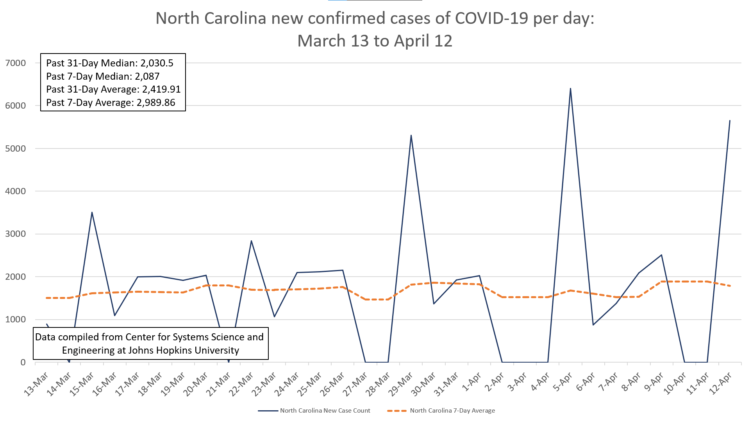 April 13. By Dave Yochum. The NC Dept. of Health & Human Services today reported 1,364 new cases of COVID-19 statewide, for a total of 936,425 since the outbreak began.
The median of the past seven days of reported results (2,087 cases) statewide is 2.8 percent ahead of the median of the past 31 days (2030.5 cases ). (See chart; data from Johns Hopkins.)
The NCDHHS reported 1,032 people hospitalized due to the coronavirus, up from 904 yesterday.
Testing
The statewide positive test rate is at 8.3 percent in today's report, up from 6.9 percent yesterday.
Deaths
A total of 12,305 North Carolinians have died due to COVID-19, which means 15 new deaths statewide were reported since yesterday.
Vaccinations
Some 41.5 percent of North Carolinians have been partially vaccinated; 31 percent fully vaccinated.
North Mecklenburg (since Monday 4/12)
Cornelius: 1 new case, 2,759 cumulative; 24 deaths total.
Davidson: 4 new cases, 1,610 cumulative; 15 deaths total.
Huntersville: 10 new cases, 5,641 cumulative; 48 deaths total.