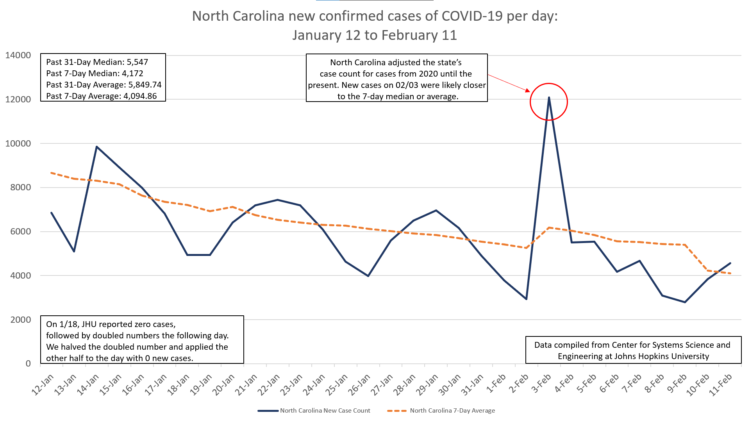 Feb. 12. Today's COVID-19 update from the NC Dept. of Health & Human Services once again shows fewer hospitalizations statewide as well as deaths due to the coronavirus back under 100 total for the day.
Meanwhile, the median daily volume of new cases over the past seven days (4,172) compared to the median of the previous 31 days (5,547) is down 24.7 percent, based on North Carolina data collected by Johns Hopkins University. (See our chart.)
There were 4,128 new cases of the coronavirus in today's NCDHHS report, down from 4,568 new cases reported yesterday.
Hospitalizations
Hospitalizations due to COVID-19 fell to 2,151 today; on Jan. 12, there were 3,940 people hospitalized due to COVID-19 statewide. Today's total is down 45.4 percent from one month ago.
Deaths
Statewide there were 82 new deaths statewide related to the coronavirus, down from 113 yesterday.
Testing
The statewide positive test rate is at 6.5 percent, up slightly from 5.9 percent yesterday.
Vaccinations
NCDHHS reports 1.073 million first doses have been administered, 408,452 second doses.
Mecklenburg
There were 422 new cases of COVID-19 county-wide, down from 467 new cases yesterday.
There were eight new deaths in Mecklenburg County related to the coronavirus; one of them was in Davidson.
North Mecklenburg
Cornelius: 15 new cases; 2,362 cumulative; 21 deaths total.
Davidson: 9 new cases; 1,320 cumulative; 15 deaths total.
Huntersville: 35 new cases; 4,850 cumulative; 46 deaths total.
Global confirmed cases
107,969,754
Global deaths
2,373,733
US confirmed
27,412,787
US deaths
476,183
—Source: Johns Hopkins University