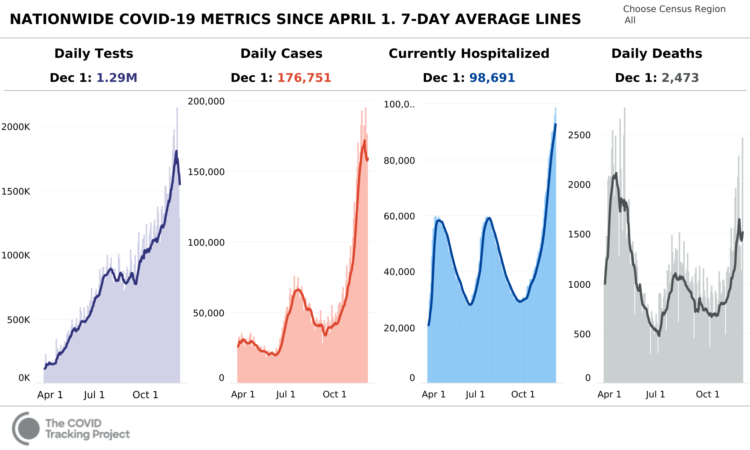 Dec. 2. By Dave Yochum. The NC Dept. of Health and Human Services is reporting 4,199 new cases of COVID-19 statewide, up from 2,883 yesterday but fewer than 4,212 reported the day before Thanksgiving.
Hospitalizations due to COVID-19 climbed by six from yesterdays's record 2,033. Yesterday was the first time hospitalizations broke through the 2,000 mark. In mid-July, after the Independence Day holiday, there were roughly 1,000 to 1,100 North Carolinians hospitalized due to COVID-19.
Gov. Roy Cooper yesterday announced that Pfizer's COVID-19 vaccination is only weeks away for the most at-risk North Carolinians.
There were 82 new deaths in today's report, a record.
The statewide positivity rate, which climbed to 10.2 percent in yesterday's report, climbed once again to 11.4 percent.
Total cases
Statewide, the cumulative total of COVID-19 cases now stands at 371,594.
Testing
More than 5.35 million tests have been completed statewide. In Mecklenburg County, positive tests were reported at 7.6 percent. The goal statewide and locally is 5 percent or less.
Deaths
According to Johns Hopkins University, there have been 271,347 deaths due to COVID-19 in the United States, and approaching 1.5 million worldwide. A total of 5,366 North Carolinians have died of COVID-19 related illness since the outbreak began in March.
There were no new COVID-related deaths between yesterday and today in Mecklenburg County, according to the NCDHHS.
Recoveries
Johns Hopkins reports 315,979 North Carolinians have recovered from bouts with COVID-19.
Mecklenburg
In Mecklenburg County, there were 445 new cases of COVID-19 in today's NCDHHS report, up from 322 new cases yesterday, but down from 534 new cases reported on Nov. 22.
North Mecklenburg
Cornelius: 15 new cases, 980 cumulative; 17 deaths total.
Davidson: 4 new cases, 556 cumulative; 7 deaths total.
Huntersville: 26 new cases, 1,880 cumulative; 15 deaths total.