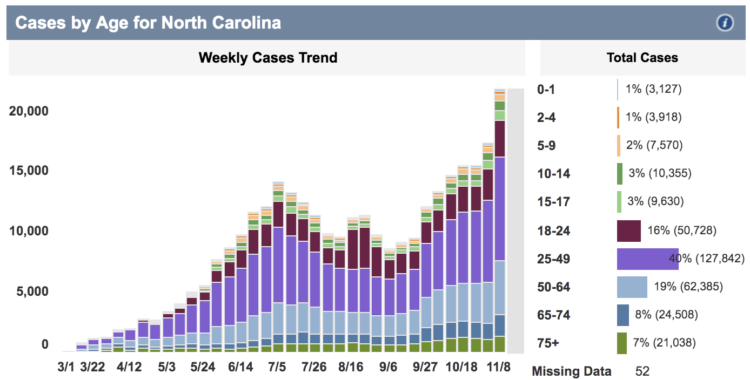 Nov. 23. By Dave Yochum. New COVID-19 cases statewide eased off from more than 4,500 logged yesterday to 2,419 in today's NC Dept. of Health & Human Services report.
Sunday's 4,514 new cases was a record. Gov. Roy Cooper is expected to update North Carolinians on the pandemic during a 2 pm press conference today.
COVID-19 hospitalizations, which reached a record 1,590 on Saturday, fell to 1,571 yesterday and then climbed to 1,601 in today's report.
With one week left to go, November is already the worst month in terms of new cases, with more than 3 million nationwide since Nov. 1.
Total cases
Statewide, the cumulative total of COVID-19 cases now stands at 339,194.
Nationwide, Johns Hopkins University is reporting more than 11.5 million cases and more than 250,000 deaths. Some 4.35 million Americans have recovered from the coronavirus.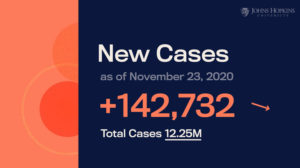 Testing
Tests are coming back positive at the rate of 6.6 percent statewide, down from 7.1 percent yesterday. In Mecklenburg County, positive tests were reported at 7.5 percent. Health officials want to see positivity rates at 5 percent and lower.
Deaths
There were five new deaths statewide in today's NCDHHS report, down from 29 Sunday and 26 on Saturday. Deaths are much more likely to occur among the older populations as well as those with existing conditions like heart disease and diabetes.
A total of 5,039 North Carolinians who have died due to the COVID-19 pandemic. Johns Hopkins University is reporting 256,798 deaths nationwide due to COVID-19.
Mecklenburg
In Mecklenburg County, there were 319 new cases in today's NCDHHS report, down from 534 new cases yesterday. There have been a total of 430 deaths countywide—no new deaths overnight. Perhaps an anomaly, there were 24 new cases reported in Cornelius yesterday.
North Mecklenburg
Cornelius: 5 new cases, 901 cumulative; 17 deaths total.
Davidson: 7 new cases, 479 cumulative; 7 deaths total.
Huntersville: 9 new cases, 1,664 cumulative; 14 deaths total.
Weekly trend up 29.7% vs. past month