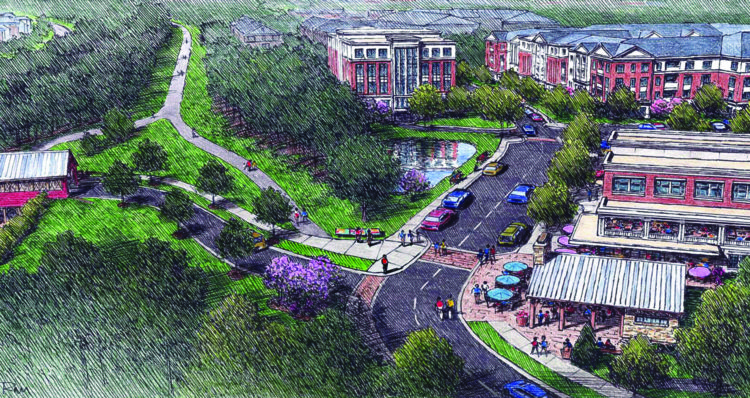 April 16. By Dave Vieser. The first public hearing on Caroline, a 17-acre mixed-use project proposed near Antiquity, is scheduled for Monday evening.
Proffit Dixon, a Charlotte based developer, hopes to build on vacant property next to Greenway Gartens, the mixed-use project planned by Olde Mecklenburg Brewery at the northern end of Zion Avenue near the Davidson town line.
The Caroline development would include an active adult/age-restricted residential section, retail, offices, commercial buildings, multi-family residential and mixed-use buildings.
Rezone needed
The property is currently zoned neighborhood residential and would need to be rezoned for conditional zoning by the town board if the project is to proceed.
Proffit Dixon Partners was founded in 2010 and focuses on multifamily residential, active adult, and mixed-use projects in the Carolinas and Tennessee. Mooresville Town Square Center near Lowe's Supermarket off of Williamson Road is one of their projects.
Towns at Feriba
Also on Monday's agenda is the first hearing for the Towns at Feriba Place project. Gallagher Real Estate Investments proposes to construct nine single-family townhomes on a vacant half acre parcel at 19751 Feriba Place.
Monday's meeting will begin at 5pm in Town Hall and will be broadcast live via the Town's Facebook page and website.
How to comment:
—Via Zoom. Zoom participants should be registered no later than 12PM the day of the Town Board meeting and be prepared to join the meeting at 5:30 p.m. for audio/video testing.
—Via email to TownofCornelius@Cornelius.org
—In-person, with several precautions, including mandatory masks (even when speaking) and touchless temperature checks. No audience seating will be available in the Assembly Room. Speakers and guests may wait in the lobby or Community Room, with appropriate physical distancing.