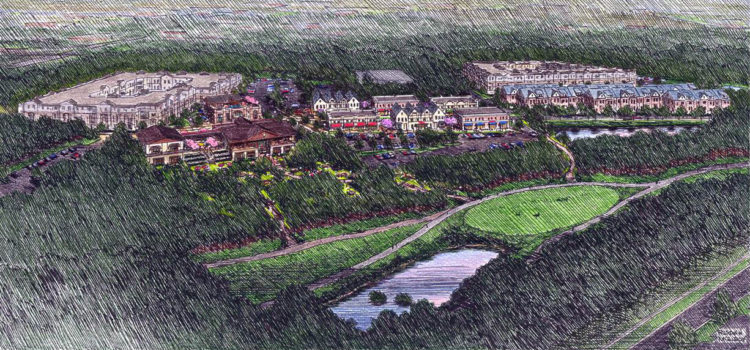 Feb. 16. By Dave Vieser. The initial reaction to Old Mecklenburg Brewery's plan for a large mixed-use project, complete with 398 apartments, 50 townhomes, a brewery and a beer garden, was all positive at Monday's Cornelius Town Board Meeting. Greenway Gartens would occupy about 24 acres on the northern end of Zion Avenue where Curtis Screw had a factory for many years.
"This is the missing puzzle piece for those of us who live in Antiquity," said Michael Klein, a neighbor.
John Marrino, owner of Olde Mecklenburg Brewery (OMB) in Charlotte, says a new road will connect to South Street in Davidson.
"We know from past experience that residences need to be a part of the project to support the brewery and the other restaurants and businesses that will come along beause of the brewery," Marrino said. OMB's South Charlotte operation is among the most successful breweries in Charlotte.

Economic impact
Attorney Susan Irvin, speaking on behalf of OMB, said that recent studies show that the project would generate $97.5 million in construction benefits and some $82.2 million in operational benefits after five years.
This was the first of two public hearings before the Town Board on the project..Next step in the lengthy approval process will be a review by the Planning Board. However, this will not occur until a Traffic Impact Analysis (TIA) , currently underway, has been completed.
New building nearby
In other action, the commissioners unanimously approved a rezoning request from MVP Properties to develop approximately 1.76 acres at 20042 N. Zion Avenue. The proposed use is a one-story medical/office building containing a maximum of 16,000 square feet.
More news
The board also decided to proceed with several items being held for action from this year's budget, including hiring of six full time firefighters, lifting a police hiring freeze, establishing a residency incentive for police, and the replacement of aging computer equipment.
Black History Month
Mayor Woody Washam also read a proclamation affirming February as Black History Month. Click here for local observances.