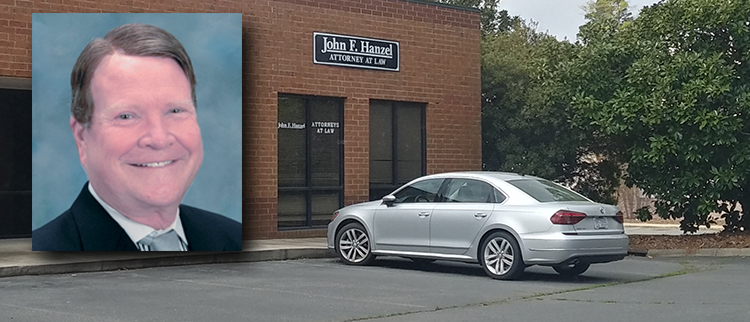 Nov. 8.   Cornelius attorney John Francis Hanzel has pleaded guilty to filing a false tax return. Hanzel was indicted by US Attorney Andrew Murray on three counts of filing false tax returns back in April.
A sentencing date has not been set. He has already been disbarred.
But he was a happening 70-year-old with a Camaro SS.
The indictment says Hanzel made "personal expenditures far exceeding his reported total income​,​"​ including $29,000 at Hair Club for Men,​ plastic surgery and $241,000 on cars, including ​​an Aston Martin DB9​ and an Audi R8 in addition to the Camaro.​
Hanzel's  practice included, among other things, counseling his clients to set up offshore corporations and offshore bank accounts to purportedly protect income and assets from creditors, including the IRS. From at least 2011 through 2014, he did not have a personal bank account and did not pay himself a salary from his law firm.
Instead, Hanzel wrote checks from his law firm's account to pay for personal expenses including utility bills, mortgage payments, and credit cards. He fraudulently deducted personal expenses paid out of his law firm bank account as business expenses, including by falsely categorizing such as expenses as costs of goods sold and other deductions.
According to the indictment and plea documents, Hanzel reported minimal income on his Federal Individual Income Tax Returns, Forms 1040, fraudulently reporting total income of less than $73,000.
He paid total federal income tax of less than $5,500 during that time period.
Hanzel actually received substantial income that he hid from the IRS by falsely deducting personal expenses as business expenses and by living out of his business bank account.
Hanzel is currently released on bond. The false tax return charge carries a maximum prison term of  three years and a $250,000 fine.
IRS-CI led the investigation. Assistant United States Attorney Jenny G. Sugar, of the U.S. Attorney's Office in Charlotte, is prosecuting the case.