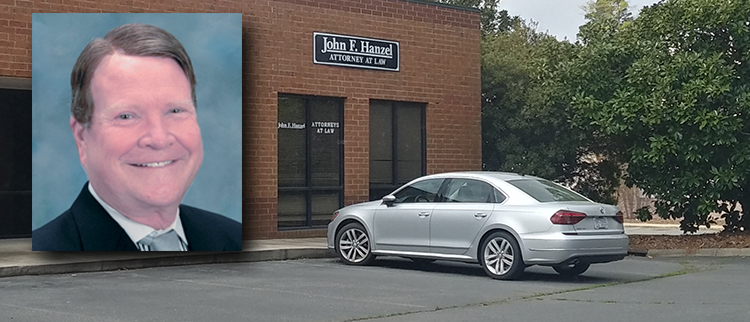 Aug. 8. By Dave Yochum. The North Carolina State Bar has disbarred long-time Cornelius attorney John Hanzel, who, in a separate matter, has been indicted for tax fraud for allegedly filing false tax returns.
Hanzel did not return a phone call to his Sefton Park office for comment, but he must notify existing clients he was  disbarred. The firm represented countless businesses and individuals in litigation, new incorporations and wills.
He was disbarred, in part, for writing checks from his law firm account to pay for personal expenses including utility bills, mortgage payments, and credit cards.
'Misappropriations'
The North Carolina Bar ruled that Hanzel "engaged in multiple instances of misappropriation of entrusted funds."
In one specific case he "appropriated the $2,074.80 in entrusted funds he had collected" from a closing for his own use, the bar's ruling said.
The bar association also said that "the protection of the public and the legal profession requires that Hanzel not be permitted to return to the practice of law until he demonstrates the following by clear, cogent and convincing evidence that he has reformed."
Since our first story on Hanzel this spring, Hanzel has not returned our phone calls for comment.
The NC Bar's Hearing Panel considered lesser sanctions but concluded "that discipline short of disbarment would not adequately protect the public for the following reasons: (a) Hanzel committed multiple criminal acts, specifically embezzlement, that reflects adversely on his honesty, trustworthiness or fitness as a lawyer in other respects."
The Hearing Panel went on to say that Hanzel caused "significant harm" to clients, in particular an estate, as well as the administration of justice and the legal profession.
"Entry of an order imposing less serious discipline would fail to acknowledge the seriousness of the offenses that Hanzel committed and would send the wrong message to lawyers and the public regarding the conduct expected of members of the Bar in this State," the Hearing Panel said.
The NC Bar's Hearing Panel also said Hanzel appropriated $5,427.33 from another client.
Of course, this can't be reported to Uncle Sam come tax time.
US Attorney Andrew Murray alleges from 2011 through 2014, Hanzel reported minimal income on his tax returns, and paid minimal federal income tax.
But he actually received substantial income that he hid from the IRS by falsely deducting personal expenses as business expenses and by living out of his business bank account, the indictment filed in U.S. District Court for the Western District of North Carolina in Charlotte.
The indictment says Hanzel made "personal expenditures far exceeding his reported total income."
The indictment alleges that the hidden income paid for awesome automobiles, including a 2010 Camaro SS; a 2011 Audi R8 and a 2008 Aston Martin DB9, the same make as James Bond's automobile.
The total cost of the vehicles was $241,000, according to the indictment.
Hair expense
Other expenses, according to the indictment, included $29,000 at Hair Club for Men, as well as $9,000 at two plastic surgery medical offices and $21,000 for dental services.
The indictment also alleges Hanzel spent more than $56,000 for a boat and for related boat expenses.
Meanwhile, on loan applications Hanzel listed gross annual income of approximately $1.7 million, the federal indictment said. On another loan application—for the Audi R8—he claimed annual income between $350,000 and $500,000.
Tax returns filed by his firm showed gross receipts above $900,000 in 2012 and 2013.
But from 2011 through 2014, Hanzel reported minimal income, according to the indictment:
2011: $11,097
2012: $8,277
2013: $50,351
2014: $2,834
According to the indictment, he paid no income taxes in 2011, 2012 and 2014. He paid total taxes of $5,483 in 2013.
His office at the corner of Liverpool and Sefton Park was open Thursday afternoon. A receptionist told a reporter Hanzel was not in.
Local attorneys said that Hanzel clients may visit his office to retrieve their files.
Hanzel has been an attorney in Cornelius for decades, although he was not an active member of the business community. He was admitted to the North Carolina State Bar in 1974.