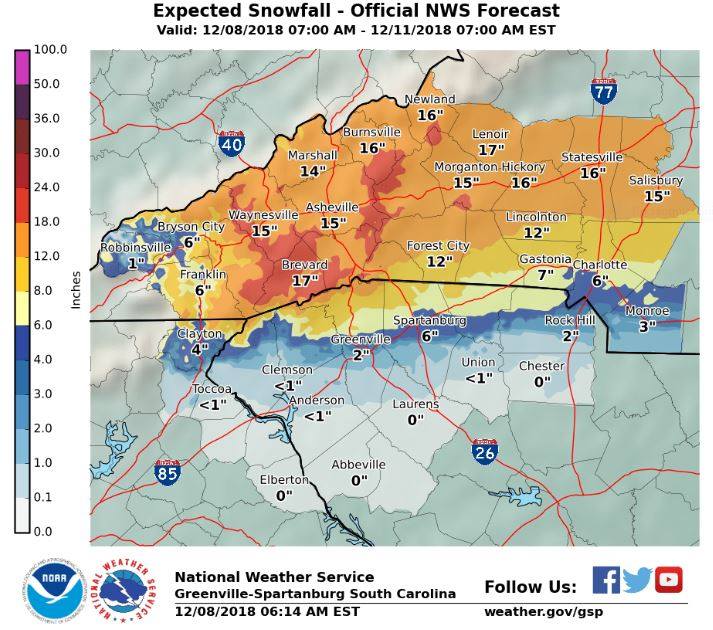 Dec. 9. 4:50 pm. The icy mix let up this afternoon in Cornelius as temperatures hovered near freezing. Charlotte Mecklenburg Schools and Lakeside Charter Academy will close tomorrow. Roads will get more treacherous into the evening as temps reach freezing.
If you shovel snow yourself, be wary of ice-compressed snow—it's deceptively heavy.
The town is making good progress with the roads. "Fingers crossed the precipitation stops sooner rather than later. We will keep working as long as we can to get everything cleared," said Assistant Town Manager Tyler Beardsley.
As of 10 am Sunday, there were no storm-related crashes in Cornelius, although there were a few cars that had trouble on the ramp trying to get off I-77.
Roads remain slick and will probably stay that way for a while.
CMS announced schools were closed at around 4:30 pm Sunday. For schools to open, the roads must be safe and clear for bus travel, as well as for staff and student drivers. There are also parking lots, sidewalks and ramps to mobile classrooms to consider.
Gov. Cooper is urging residents to stay off roads that are extremely dangerous in many areas.
"Enjoy the beauty, but respect the danger. This storm is treacherous, especially if you try to drive in it. Travel conditions are extremely hazardous. Don't put your life and the lives of first responders at risk by getting out on roads covered with snow and ice," he said.
Forecasters say this storm will continue into tomorrow and many areas face additional snow. Areas along and northwest of I-85 will see the greatest snowfall.
The National Weather Service is calling for sleet before 3 pm, then rain or freezing rain and even fog, with a high near 33. Winds will be around 15 mph, with gusts as high as 25 mph.
The Town of Cornelius Planning Board Monday night has been cancelled and moved to Tuesday Dec. 18 at 6:30 pm in the Assembly Room.
Monday weather from National Weather Service
Snow and sleet likely before 10am, then rain likely between 10am and noon, then a chance of snow after noon. Patchy fog before 2pm. Otherwise, cloudy, with a high near 38. North northeast wind 6 to 9 mph. Chance of precipitation is 70%. New snow and sleet accumulation of less than one inch possible.