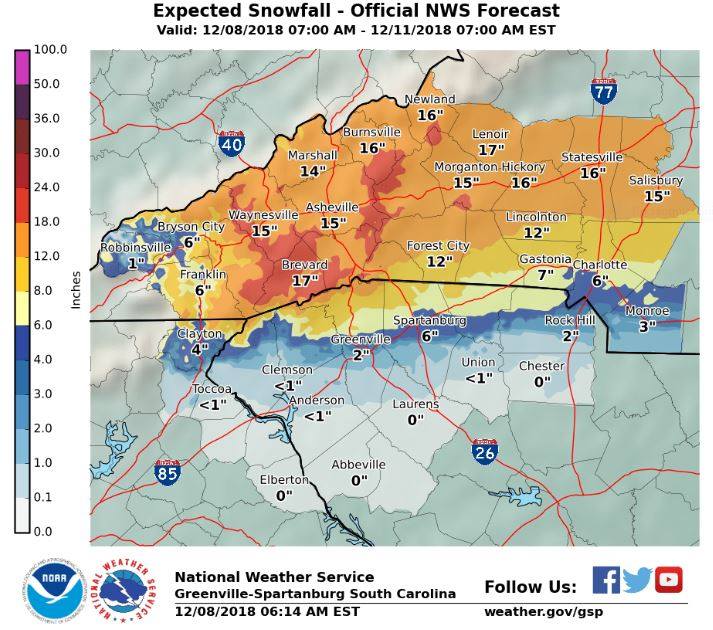 Dec. 8. 4:30pm. It's started: A light rain, more like a mist, is falling in Cornelius and so is the temperature. From the mid-40s a few hours ago to around 39 at 4 pm, the temperature is headed down, with a low of 29 forecast.
The National Weather Service is calling for rain before 9 or 10 pm, then shifting to snow after 10. New snow accumulation of 3 to 5 inches is forecast tonight. An icy mix is part of the picture, with the potential for power outages especially tomorrow.
It will keep snowing into Sunday, then snow and sleet between 9 am and noon, then more snow after noon with a high near 33—and winds around 17 mph, and as high as 30 mph.  New snow and sleet accumulation of 3 to 7 inches possible.
But we appear to be on a line that could get more than 7 inches of snow. Indeed, the winter storm continues into Sunday night— becoming all sleet—at some point and on into Monday.
Gov. Cooper has declared a State of Emergency for all 100 counties. He urged residents to get ready for power outages and plan to stay off the roads once conditions worsen.
"This is a snow storm, not a snow fall. It's serious," Cooper said. "In the Piedmont to western parts of our state, we're preparing for days of impact, not hours."
It sounds like the worst of the freezing rain could occur tomorrow around 6 or 7 am until 3-ish, according to online regional weather specialist Steve Lyttle. If all this plays out, be prepared for power outages sometime Sunday.
To prepare for winter weather, North Carolina Emergency Management have these cold weather tips
—Always keep enough non-perishable food in your home for 3 days.
—Keep fresh batteries on hand for weather radios and flashlights.
—Properly vent kerosene heaters and keep any electric generators outside and away from open windows or doors to prevent carbon monoxide poisoning. Never burn charcoal indoors.
—Use a National Oceanic and Atmospheric Administration weather radio to monitor for changing weather conditions.
—Keep alternative heating sources and fire extinguishers on hand. Be sure your family knows how to use them.
—Store an emergency kit in your vehicle. Include a scraper, jumper cables, tow chain, sand/salt, blankets, flashlight, first aid kit and road map.
—Dress warmly! Multiple layers of thin clothing are better than a single layer of thick clothing.