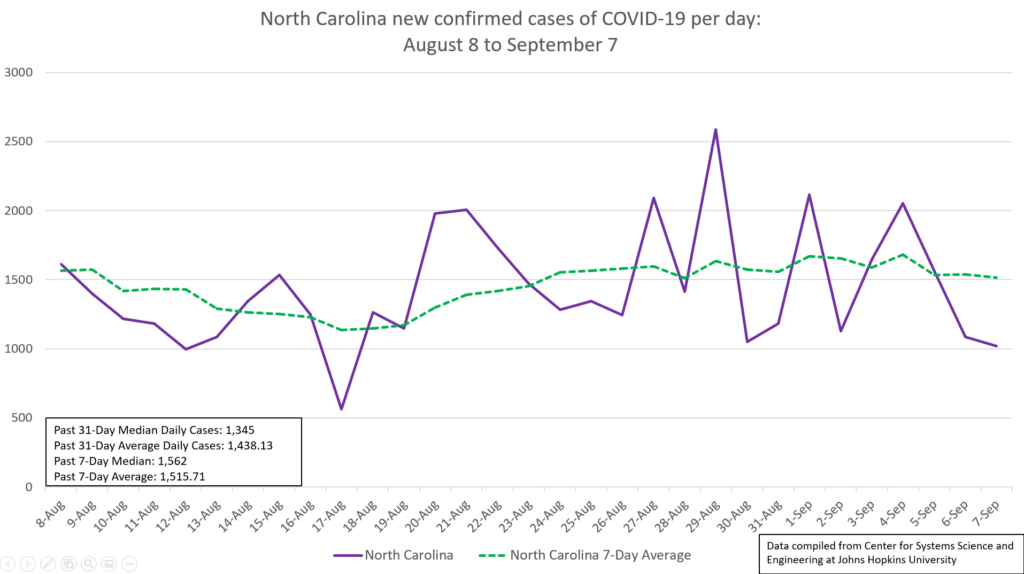 Sept. 9. By Dave Yochum. The median number of new coronavirus cases statewide during the past seven days is running 16 percent ahead of the past month, according to data from Johns Hopkins University. The medians tell a different story in Mecklenburg County where the number of new cases over the past seven days is running 27 percent below the past month.
Today's report from the NC Dept. of Health & Human Services says the rate of positive tests statewide has risen to 7.1 percent, up from 6.2 percent in yesterday's report. Mecklenburg's positive test rate is 6.2 percent, down from 6.7 percent on Friday last week.
The goal is 5 percent and trending down, according to NCDHHS.
NCDHHS reported 897 new daily cases statewide Wednesday, up from 716 new cases Tuesday, but well below the 2,585 new cases reported on Aug. 29. Over the past month, the median daily number of new cases is 1,345; over the past week, 1,562.
—Total number of people hospitalized statewide due to COVID-19: 916, up from 827 yesterday.
—The number of new deaths statewide in today's NCDHHS report was 49—up from 12 new deaths yesterday—for a cumulative total of 2,958 since the outbreak began here in March.
—Total tests in North Carolina are approaching 2.5 million.
Mecklenburg County
Mecklenburg accounted for 8.89 percent of the state's new confirmed cases per day, down from 10 percent in recent weeks. (See chart below)
NCDHHS today reported 116 new cases in Mecklenburg for a total of 26,479 since the outbreak began.
Deaths in Mecklenburg rose by four, to 322.
North Meck
—Cornelius: 2 new cases, total 475. 16 deaths total, none new in more than a month
—Davidson: 3 new cases, total 269. 5 deaths total, none new in more than a month
—Huntersville: 4 new cases, 852 total. 11 deaths total, 1 new Aug. 26