June 28. By Lisa Sorg/NC Newsline. For the past three years, a sinkhole in a Mooresville parking lot has released coal ash into a tributary of Lake Norman, in part because of a legal impasse about who is responsible — the property owners or Duke Energy — for repairing the damage.
The cause, says a lawyer for the property owners, is a pipe and culvert system, improperly installed 25 years ago, that "has now failed, spectacularly, and has caused a very deep sinkhole to develop and grow. This sinkhole threatens not only to swallow up one of our entity client's business stores, but also private parking lots, private roads, and portions of NC Highway 150."
Background
The one-acre parking lot at 190 West Plaza Drive — also known as NC Highway 150 — is currently owned by Christopher and Kim Medford and Tire Masters. However, the coal ash was buried on the property under a previous ownership. In 1994 and 1995, Terry Smith developed the tract and allowed Duke Energy to deposit nearly 55,000 cubic yards of ash from the Marshall Steam Station onto the future parking lot for use as structural fill.
It was common – and legal – to use coal ash for this purpose at the time. Some coal ash fill sites were documented in land deeds, but there are an unknown number of other locations where the material was buried. There is no notification requirement if the amount of ash is less than 1,000 cubic yards. Nor do state records document all of the old "legacy" sites — coal ash dumps from the 1950s, for example — when such activity was virtually unregulated.
Sinkhole failure 5 years ago
In 2018, the sinkhole began to form because a 100-yard corrugated metal pipe beneath the property and an adjacent lot collapsed after heavy rains. Engineering reports and state records show the pipe had been improperly installed at the same time – allegedly by a contractor who was widening NC 150 on behalf of the NC Department of Transportation.
Now, facing several environmental violations and roughly $2 million in costs to remove and reinstall a new pipe and relocate the ash, the Medfords and their attorney are negotiating with Duke Energy and state regulators to solve a problem they didn't cause. "Plainly, in our view, the failure of a metal pipe placed through a giant coal ash fill piping a year-round creek, considering Duke Energy's expertise and close involvement, was to be expected as an eventuality by Duke Energy," wrote Charles Grimes, the Medfords' attorney, to Duke Energy.
In response, Duke Energy has said it is not responsible for the ash contamination because the former property owner assumed responsibility for it — a liability recorded in the land deed and passed on to the Medfords. The utility also says it did not install the pipe.
In a statement to NC Newsline, Bill Norton, a spokesman for the utility, said: "We have a shared interest in protecting people and the environment, so while our connection to this property ended decades ago, we continue to support efforts with the property owners and our state and local partners to find a resolution."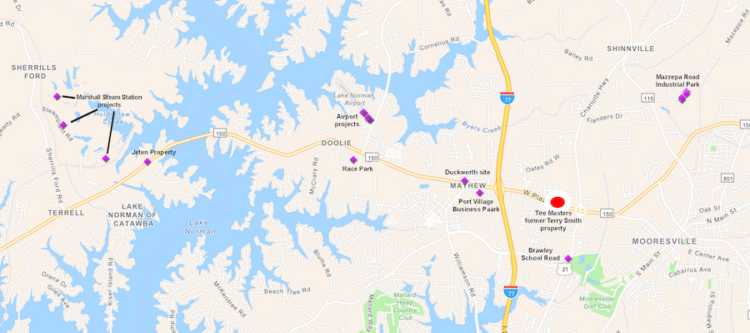 Grimes did not return emails seeking comment.
A map showing the locations where coal ash was used as structural fill in Iredell County: Marshall Steam Station, Lake Norman Airport, Tire Masters, Brawley School Road, Port Village Business Park and the Mazzepa Road Industrial Park.
Yet while the legal stalemate drags on, coal ash continues to leave the property, crossing NC 150 and migrating about a quarter mile downstream. The tributary eventually flows into Lake Norman, a popular fishing and boating destination, as well as a drinking water supply for roughly a million people, including Charlotte, Mooresville and Lincoln County.
It's a mystery
Who installed the faulty pipe?
Terry Smith developed three lots on NC 150 in the 1990s, on the cusp of enormous commercial growth in Mooresville. Meanwhile, eight miles away, Duke Energy's Marshall Steam Plant was burning millions of tons of coal, storing some in unlined ponds along Lake Norman, and offloading other amounts to private property owners to spread on farmland or as fill. Duke had the ash; Smith needed the fill.
Because the parking lot on NC 150 would be built on top of a tributary, contractors installed a 100-yard pipe, 78 inches in diameter and made of corrugated metal. They burrowed the pipe through 550 feet of coal ash, in order to channel the stream until it could travel beneath NC 150 and then re-emerge above ground.
But the pipe was improperly installed, according to engineers hired by the Medfords and Randy Marion, whose car dealership adjoins Tire Masters and lies above a segment of the pipe.
"It appears the installer was careless with the use of machinery used to install the pipe since there are numerous tears, bulges and buckling, indicating impact with excavating or compaction equipment," the engineering report from 2021 reads. Joints connecting the segments of pipe were also improperly sealed.
Sagging in 2018
The faulty construction led to the pavement beginning to sag in 2018. Finally, the maw opened in 2020 after heavy rains. Although Christopher Medford backfilled the sinkhole with clean dirt, the ash had entered about 300 feet of the tributary, DEQ inspectors found coal ash. By last fall, the material had advanced downstream by 1,000 feet.
Grimes, the Medfords' attorney, told Duke Energy in a 2021 letter that his research found the utility "was intimately involved in almost all (if not in fact all) aspects of applying for, designing, engineering, installing and thereafter covering up" the structural fill as well as the pipe culvert that "was located under and around" the Medfords' property.
In response, Duke Energy denied any involvement in designing or building the pipe culvert system. In a letter to Grimes, the utility said the construction work was performed by "the same contractor that widened Highway 150 for the North Carolina Department of Transportation."
However, NC DOT says it does not know who performed the actual installation of the pipe and culvert. Nor does the agency take any responsibility for the sinkhole, even though it has an easement on part of the Medfords' property to accommodate a future widening of NC 150. "The pipe installation you're referring to was performed through an encroachment agreement with the Department and the original property owner and is located outside our current right of way," said Jen Thompson, DOT communications officer in an email to NC Newsline. "NCDOT is not responsible for private property improvements outside the right of way or any issues that arise from them."
Sampling by the NC Department of Environmental Quality shows that levels of some coal ash-related chemicals, such as strontium and titanium, are higher downstream of the parking lot than upstream, but none exceeded surface water standards. However, that testing was conducted in 2020, shortly after the sinkhole opened. Since then, state records show no additional sampling has been conducted.
After several meetings over the past six months, no agreement has been reached among the parties — the property owners, Duke Energy and the state — said DEQ spokesperson Melody Foote. Nor is there a "current corrective action plan or current timeline," Foote said. "DEQ is evaluating next steps."
—Lisa Sorg/NC Newsline