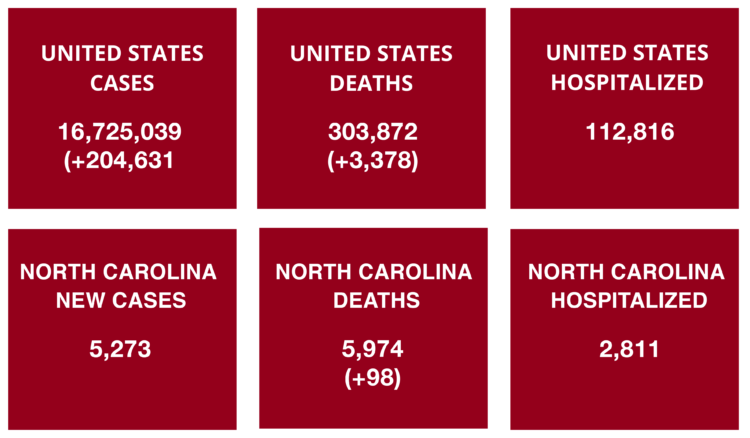 Dec. 16. By Dave Yochum. As frontline healthcare workers receive the first coronavirus vaccines, the NC Dept. of Health & Human Services is reporting increases in statewide hospitalizations and positive test rates.
Today's COVID-19 report from the NCDHHS showed 2,811 North Carolinians hospitalized due to the coronavirus, up 76 from yesterday's record high of 2,735.
The positive test rate also climbed to 12.5 percent statewide.
There were 98 new deaths related to the coronavirus in North Carolina, a record.
"Now more than ever we need help with enforcement from our local partners to fight this raging pandemic," Gov. Roy Cooper said. "Taking steps now to protect our communities by enforcing safety precautions will help reduce transmission of the virus and save lives."
Curfew through the holidays
A statewide curfew is in effect until at least Jan. 8.
A recent advisory opinion from the NC Dept. of Justice says local governments may unquestionably enforce local ordinances that establish civil penalties for violations of the COVID-19 executive orders. For frequently asked questions, click here.
The NCDHHS also reported 5,273 new cases statewide, up from 5,236 new cases yesterday. The record high was last Friday when the NDHHS reported 7,540 new cases.
Testing
The Mecklenburg County positivity rate was 11 percent, just slightly higher than yesterday.
Total cases
Statewide, the cumulative total of COVID-19 cases now stands at 451,874.
Mecklenburg
The county-wide total is now 53,076, up 644 from yesterday.
North Mecklenburg
Cornelius: 21 new cases, 1,264 cumulative; 17 deaths total.
Davidson: 13 new cases, 689 cumulative; 8 deaths total.
Huntersville: 39 new cases, 2,453 cumulative; 19 deaths total.