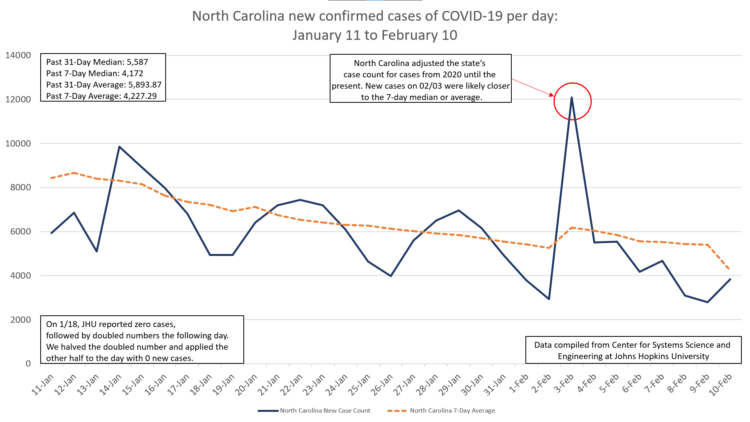 Feb. 10. COVID-19 hospitalizations and the percent positive rate continue to drop statewide, according to the NC Dept. of Health & Human Services. Hospitalizations across North Carolina have declined to levels not seen since early December.
The median daily volume of new cases over the past seven days (4,172) compared to the median of the previous 31 days (5,587) is down 24.3 percent, based on North Carolina data collected by Johns Hopkins University.
However, there were 4,568 new cases of the coronavirus in today's NCDHHS report, up from 3,833 new cases reported yesterday.
Hospitalizations
Hospitalizations due to COVID-19 fell to 2,185. On Jan. 11, there were 3,843 people hospitalized due to COVID-19 statewide.
NC deaths
Statewide there were 113 new deaths statewide related to the coronavirus, down from 135 yesterday.
Testing
The statewide positive test rate is at 5.9 percent, finally approaching the goal of 5 percent.
Vaccinations
NCDHHS reports 1.035 million first doses have been administered and 371,074 second doses.
Mecklenburg
There were 467 new cases of COVID-19 county-wide, for a total of 91,600 since March of last year.
There have been 802 total cumulative deaths county-wide due to COVID-19, up six from yesterday.
The Mecklenburg positive test rate remains near 10 percent–at 9.8 percent in today's report.
North Mecklenburg
Cornelius: 22 new cases; 2,347 cumulative; 21 deaths total.
Davidson: 10 new cases; 1,311 cumulative; 14 deaths total.
Huntersville: 30 new cases; 4,815 cumulative; 46 deaths total.