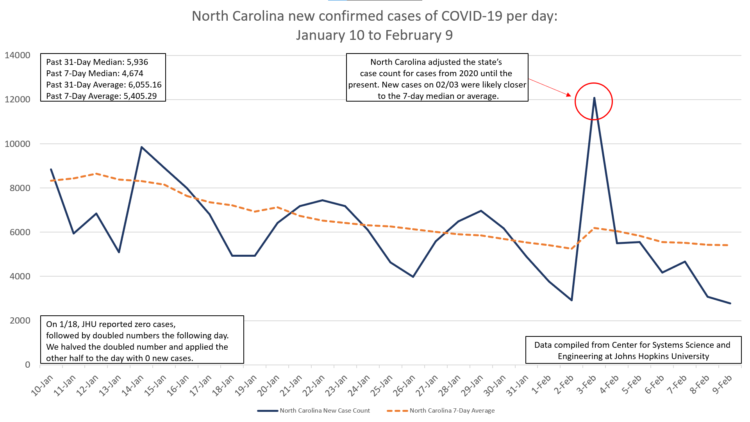 Feb. 10. Based on Johns Hopkins' COVID-19 data, the median of new COVID-19 cases per day over the past week is down 21 percent from the median daily volume over the past 31 days.
There were 3,833 new cases of the coronavirus statewide in today's NC Dept. of Health & Human Services report, up from 2,786 new cases yesterday.
The number of deaths is declining as well. From Feb. 3 to Feb. 10, there were 14 new deaths related to the coronavirus in Mecklenburg County. One month ago, from Jan. 4 to Jan. 11, there were 41 deaths county-wide.
Statewide, there were 135 new deaths due to COVID-19, for a total of 10,181 since the outbreak began.
Hospitalizations
Hospitalizations due to COVID-19 fell to 2,291 as of Feb. 10. On Jan. 10, there were 3,774 people hospitalized due to COVID-19 statewide.
Testing
The statewide positive test rate is at 7.9 percent, while the positive test rate in Mecklenburg was 9.9 percent in today's report.
Vaccinations
NCDHHS reports 1.01 million first doses have been administered, 331,401 second doses. During a 2 pm press conference today, Gov. Cooper said educators may begin receiving vaccines starting Feb. 24.
Limited supply
States must vaccinate people in groups due to limited supply.
North Carolina is currently vaccinating people in Groups 1 and 2, which include health care workers, long-term care staff and residents and people 65 and older. In the coming weeks, providers will continue to vaccinate these groups. More than 40 percent of North Carolina's residents 65 and older have been vaccinated.
Mecklenburg
There were 365 new cases of COVID-19 county-wide from yesterday's report to today's, for a total of 91,133 since March of last year.
There have been 796 total cumulative deaths county-wide due to COVID-19, up one from yesterday.
North Mecklenburg
Cornelius: 13 new cases; 2,325 cumulative; 21 deaths total.
Davidson: 7 new cases; 1,301 cumulative; 14 deaths total.
Huntersville: 8 new cases; 4,785 cumulative; 46 deaths total.