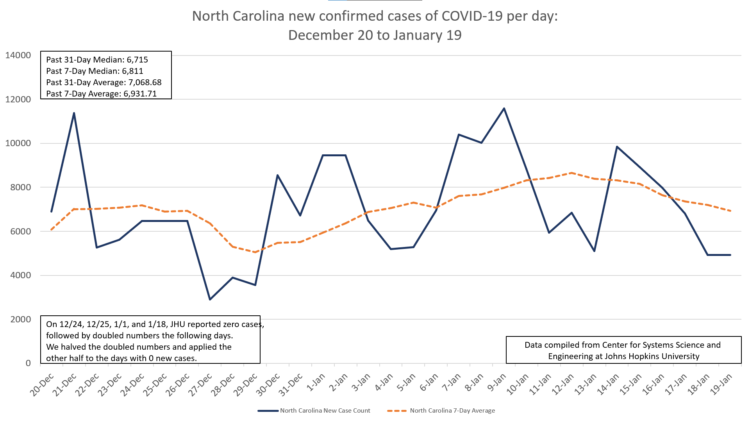 Jan. 20. By Dave Yochum. The NC Dept. of Health & Human Services reported 6,415 new cases of the coronavirus statewide, up from 4,058 new cases yesterday, but down considerably from 11,000-plus cases reported back on Jan. 9.
The entire state of North Carolina has had 690,912 cases of the coronavirus during the pandemic. Data from Johns Hopkins indicate more than 1 million in Los Angeles County alone.
Positive tests
The statewide positivity rate was 11.8 percent in today's NCDHHS report. In Mecklenburg County, the positive test rate is 13.3 percent.
Hospitalizations
COVID-19 hospitalizations statewide fell to 3,740 patients, from 3,881 yesterday. There was a record 3,990 set on Jan. 14.
Deaths
There were 61 new deaths statewide in today's NCDHHS compared to 56 new deaths yesterday. The statewide total since March is 8,200. NCDHHS today reported one new COVID death in Huntersville.
Mecklenburg County
Mecklenburg, which has had more than 22,000 new cases in the past 30 days, logged nine new deaths today, for a cumulative total of 690 since the outbreak began.
There were 1,042 new cases in Mecklenburg reported by the NCDHHS today for a total of 78,778 since March.
North Mecklenburg
Cornelius: 19 new cases, 2,054 cumulative; 20 deaths total.
Davidson: 19 new cases, 1,077 cumulative; 9 deaths total.
Huntersville: 24 new cases, 4,166 cumulative; 34 deaths total.