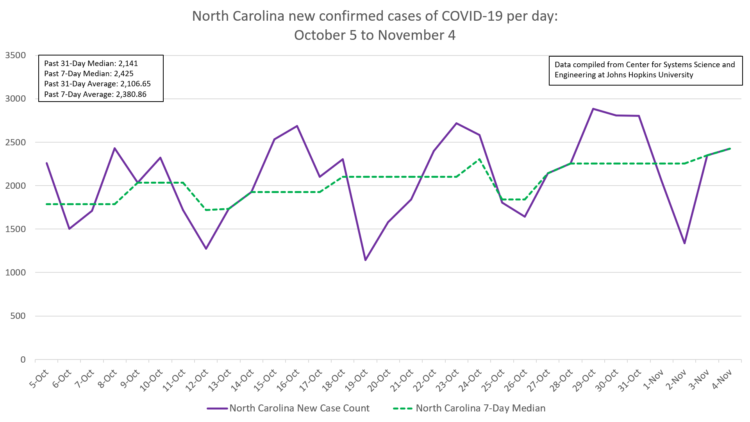 The NC Dept. of Health and Human Services today reported 2,859 new COVID-19 cases statewide, the largest increase in a week. The cumulative total now stands at 285,661 since the outbreak began in March.
Meanwhile, the median number of new cases over the past week has climbed 13.2 percent ahead of the median number over the past 31 days. On Tuesday, the new case load was running 7.2 percent ahead of the prior 31-day median.
Testing
Tests are coming back positive at the rate of 6.6 percent statewide, down from 7.4 percent yesterday. In Mecklenburg, positive tests are running at 6.2 percent two days in a row, up from 6 percent much of last week. The goal is heading downward from 5 percent,
Deaths
There were 41 new deaths statewide due to COVID-19, down from 50 yesterday. A total of 4,548 North Carolinians have died because of the COVID-19 pandemic. There have been no new deaths in North Mecklenburg for more than a month, except for one in Davidson last week and one in Cornelius this week. Johns Hopkins University is reporting 233,836 deaths nationwide due to COVID-19 as of noon today.
Hospitalizations
Hospitalizations rose to 1,193 statewide, according to today's NCDHHS report, up from 1,186 yesterday.
Mecklenburg
There were 219 new cases reported in Mecklenburg, as well as two new deaths, for a total of 402 deaths county-wide.
North Mecklenburg
Cornelius: 5 new cases, 722 cumulative total; 17 deaths total.
Davidson: 8 new cases, 388 cumulative cases total; 7 deaths total.
Huntersville: 16 new cases, 1,327 cumulative case total; 14 deaths total.