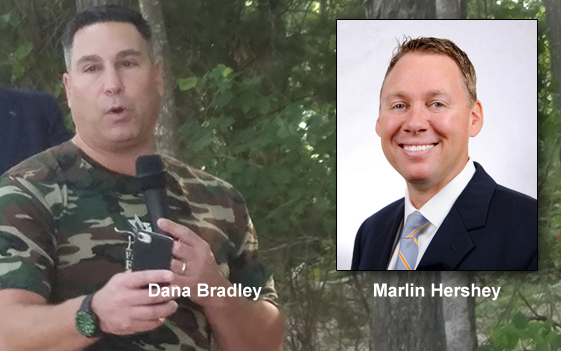 Oct. 11.UPDATE 5:30 PM. By Dave Yochum. Two Cornelius financial executives have been charged with fraud by the Securities and Exchange Commission. The SEC says Marlin Hershey and Dana Bradley fraudulently raised nearly $6 million from investors, some of whom were family and friends.
The SEC's complaint, filed in U.S. District Court in Charlotte, alleges the pair told investors they would use investor funds to make loans to real estate developers who would then use the money to acquire and rehabilitate homes.
In truth, the complaint alleges, they used a large portion of the funds to pay themselves more than $1 million in commissions and repay principal and interest due to other investors.
Both men are prominent Cornelius businessmen and active in philanthropy.
NEW: Attorneys for the defendants instructed them not to discuss the complaint or the details of the case.
"We disagree with the SEC's characterization of our clients and to that end we intend to vigorously defend our clients in and through the Court process. We ask that the public not rush to a judgment based on allegations or an SEC litigation release. Please reserve Judgement on the veracity of the complaint until this matter proceeds to a conclusion through Court," they said in a written response to inquiries from Business Today and Cornelius Today.
"We remind all that the complaint merely contains allegations, which begin the legal process and require proof in Court," they said.
Bradley, who owns a lakefront home at 7428 Waterview with his wife Robin, was one of the chief fundraisers for the Cornelius Patriot Pier at Ramsey Creek. The dedication of the fishing pier for disabled veterans last year was attended by a raft of political leaders ranging from former Cornelius Mayor Chuck Travis to US Sen. Thom Tillis. He was a $1,500 donor to the 2014 Tillis campaign.
Hershey, who lives in a $1.7 million house at 15514 Fisherman's Rest Ct. in The Peninsula, has hosted golf outings at upscale golf courses all around Charlotte for clients and would-be clients of Performance Holdings, a Huntersville investment firm located in Kenton Place.
The SEC has charged Bradley and Hershey and a variety of companies one or both are associated with: Bryant Boys, LLC; Distressed Lending Fund, LLC; Erndit LLC; Hershey Enterprises, Inc.; MW Enterprises, LLC;Performance Retire on Rentals, as well as Performance Holdings Inc.
The SEC complaint further alleges that Bradley and Hershey oversaw three securities offerings for a third-party real estate developer in Florida and, in connection with those offerings, operated as unregistered brokers and received approximately $2.1 million in commissions.
The SEC's complaint charges Bradley, Hershey, and their companies violated the antifraud provisions of Section 17(a) of the Securities Act of 1933 and Section 10(b) of the Securities Exchange Act of 1934 and Rule 10b-5.
The complaint also charges Bradley and Hershey with violating the broker-registration provisions of Section 15(a) of the Exchange Act, and entities under their control with aiding and abetting those violations.
The SEC is seeking a permanent injunction, an accounting, disgorgement, prejudgment interest, and civil money penalties.