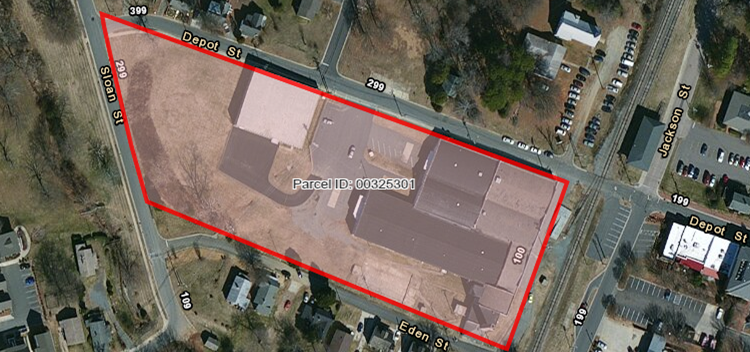 Dec. 7. There will be an online meeting Dec. 15 to discuss the results and next steps following additional soil sampling within a quarter mile of the old Carolina Asbestos site in Davidson. The N.C. Department of Environmental Quality's Division of Waste Management, the Environmental Protection Agency and the Town of Davidson are co-hosting the meeting which will include a question-and-answer session following the presentation.
You will need to use this link to register, watch or ask questions about the content of the meeting which starts at 6 pm:
https://tinyurl.com/TownofDavidsonAsbestosUpdate.
Dial in option: 301-715-8592; Webinar ID: 853 2371 2491
The online meeting will also be live-streamed via the Town of Davidson' YouTube channel: https://tinyurl.com/TownofDavidson-YouTubeChannel.
Carolina Asbestos
From the 1930s until the 1960s, Carolina Asbestos operated at 301 Depot Street. It was reported that asbestos-containing material was removed from the manufacturing location and used as fill at nearby neighboring properties. Following inspections by the EPA, soil samples were taken between Nov. 1, 2016, and May 16, 2017.
At properties that met federal site-specific criteria and tested above the EPA's health-based exposure limit, the EPA removed the top one-to-two feet of asbestos-contaminated soil, marked the end of excavation and installed clean fill and sod. Various sampling events were conducted between May and December 2020.
More info: https://deq.nc.gov/about/divisions/waste-management/superfund-section/inactive-hazardous-sites-program/carolina.
Sites statewide
There are dozens of asbestos sites across the state, as well as some in South Carolina. This list comes from Ward Back Law:
Burlington Industries Greensboro Finishing Plant — Greensboro, NC
Burlington Industries Enterprise Plant — Greensboro, NC
Burlington Industries Doyle St. Plant / Burlington Formed Fabrics — Greensboro, NC
Cone Mills Proximity Mill — Greensboro, NC
Cone Mills Revolution Mill — Greensboro, NC
Cone Mills White Oak Mill — Greensboro, NC
Miller Brewery — Eden, NC
American Tobacco Plant — Reidsville, NC
Western Electric/AT&T Plant — Burlington, NC
Duke Power Riverbend Steam Plant — Mount Holly, NC
Duke Power Allen Steam Plant — Belmont, NC
Duke Power Marshall Steam Plant — Terrell/Catawba, NC
Duke Power Buck Steam Plant — Spencer/Salisbury, NC
Duke Power McGuire Nuclear Plant — Cowan's Ford, NC
Duke Power Cowan's Ford Hydro Plant — Huntersville, NC
Duke Power Belews Creek Steam Plant — Walnut Cove, NC
Celanese Experimental Plant/Lab — Charlotte, NC
Celanese/Fiber Industries / Hoechst Fibers / Hoechst Celanese — Salisbury/Fiberton, NC/Shelby, NC
Westinghouse Turbine Plant / Westinghouse "Bomb" Plant — Charlotte, NC
Carolina Paperboard Corp. Plant — Charlotte, NC
Cannon Mills — Kannapolis, NC
Cannon Mills — Concord, NC
Southern Dye/Sodyeco/Sandoz/Martin Marietta/Clariant Plant #32 — Mount Holly, NC
H.K. Porter/Southern Asbestos (Thermoid Division) — Charlotte, NC
Union Carbide Eveready Plant — Charlotte, NC
R.J. Reynolds Tobacco Plants — Winston Salem, NC
Schlitz / Stroh's Brewery Can Plant — Winston Salem, NC
Western Electric /AT&T — Winston-Salem, NC
Pittsburgh Plate Glass / PPG — Lexington, NC/Shelby, NC
Carolina Container Corporation — High Point, NC
Ecusta Paper Mill— Brevard, NC
Champion Paper — Canton, NC
Dayco — Waynesville, NC
American Thread Co., Inc.- Marion and Brevard, NC
DuPont Plants — Brevard, NC/Wilmington, NC/Kinston, NC/Rock Hill, SC
Weyerhaeuser Plants — Plymouth NC, New Bern, NC