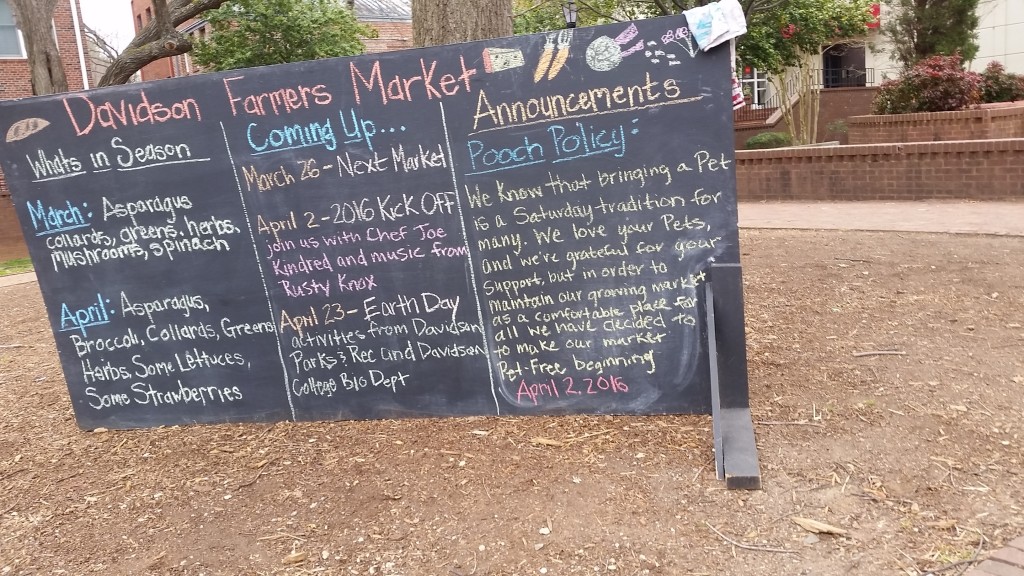 March 12. The Davidson Farmer's Market will no longer allow dogs, starting April 2.  A Saturday morning tradition in Lake Norman for years, the non-profit market features local and regional farmers. While the market will remain open to service animals, ordinary pets are a no-no.
"We love your pets, and we're grateful for your support, but in order to maintain our growing market as a clean and comfortable place for all, we have decided to make our market pet-free," they announced via their blog.
According to the blog, last year was one of the busiest years for the Davidson Farmer's Market, with record-setting attendance on many Saturdays. "The playground was always busy with parents and kids, the vendor areas were full with folks visiting with friends and neighbors, while many others participated in chef demos and other activities," a post on the website says.
"Unfortunately, we had multiple incidents with dogs and while no people or pets were hurt this did cause the Davidson Farmer's Market to review our current Dog "Pooch" Policy. After much deliberation, we determined that in order to keep the market safe and enjoyable for all we need to adopt a pet free policy beginning April 2," the web site says.
"We did not adopt this policy lightly, as many of us are dog owners, we understand how important they are to a family. The Davidson Farmer's Market is a special part of Saturday mornings in Davidson and we are grateful for your support. We hope you will continue to enjoy the market, the vendors you frequented last year, and get to know the new vendors that will be joining us this year," the statement says.