By Dave Yochum. "Target Acquired." That's the subject line on a recent email that race team executive Greg Wallace sent to his cohorts in the I-77 Business Plan, a high-level group of mostly Cornelius business leaders who are fighting the 50-year contract the NCDOT has inked with Cintra, a unit of Ferrovial.
A room at the Lake Norman Chamber is their command post.
The target Wallace was talking about is NC Rep. John Fraley, a Republican from Mooresville who would not join four North Carolina legislators, including Rep. John Bradford and Sen. Jeff Tarte, who together called on Gov. Pat McCrory to cancel the contract.
The war is against a $650 million toll plan, one that Lake Norman Chamber CEO Bill Russell says "will be the greatest calamity ever perpetrated on business and our quality of life in the Lake Norman-Charlotte region for the next 50 years."
There is a cast of characters, signatories of a declaration of independence from NCDOT and old-line Charlotte business interests, including the Charlotte Chamber of Commerce. They lead a growing cadre of people from all walks of life, Republican, Democrat and unaffiliated; employees, business owners and solo entrepreneurs.
Most are from Cornelius, home of Catawba Avenue. It has long been called the Main Street of Lake Norman, yet there is no easy on-off access from the I-77 toll lanes.
Kurt Naas, founder of WidenI-77, the first anti-toll group, a member of the I-77 Business Plan, is a general in this war. Then there's John "Mac" McAlpine V, the organizer of the I-77 "Emergency Call to Action," plus John Hettwer, the outspoken former chairman of the Lake Norman Chamber of Commerce.
All three are from Cornelius.
Whether they win or lose, though is anybody's guess. The WidenI-77 lawsuit will be heard in January. Efforts to overturn the Charlotte Regional Transportation Organization's weighted vote—it went pro-toll, thanks to Charlotte's Vi Liles and Sarah McAulay, the CRTPO chairwoman who was turned out by Huntersville voters Nov. 3.
If there's a single town that is a Hornet's Nest, it's Cornelius. Here's a look at some of the hornets.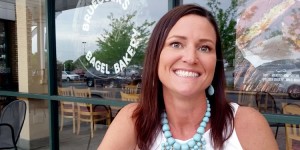 Amanda Dudley
The 42-year-old mother of four started Exit 28 Ridiculousness, a Facebook page, on a lark last year. It was then all about what Mayor Travis has acknowledged to be the failed aesthetic improvements on the Catawba Avenue bridge. It morphed into a virtual "town square" where the majority of people express not just outrage at the toll plane, but strategize openly on how to fight Cintra. It has more than 5,400 members. Political figures credit the page for the ground swell of opposition to the tolls. Sen. Jeff Tarte is a member. Amanda, a Victoria Bay resident, is the administrator.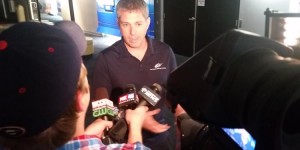 John "Mac" McAlpine V
McAlpine is a quiet and unassuming engineer who worked at the late, great Michael Waltrip Raceworld for nine seasons. The Blue Stone Harbor resident comes from a long line of Presbyterian ministers and holds a master's degree in industrial management from Clemson. On his own—and apparently out of nowhere—he organized the I-77 "Emergency Call to Action" at MWR back in May. Literally hundreds of business leaders attended; this, after the Lake Norman Chamber of Commerce was late to the game. Within a month, the chamber was on board, fully supporting the fight against the tolls. McAlpine's job went away with MWR, but UNC-Charlotte is talking to the  38-year-old father of two about a teaching position.
John Hettwer
The former chairman of the Lake Norman Chamber of Commerce meets every Tuesday at the Lake Norman Chamber with Bill Russell, CEO; Mike Russell, the current chamber chairman; business leaders like race team exec Greg Wallace; Mac McAlpine; and Mecklenburg County Commissioner Jim Puckett. They strategize on how to fight the tolls, including direct lobbying with legislators in Raleigh.
Pat Cain Cotham and Jim Puckett
Pat Cotham is a Democrat on the Mecklenburg County Board of Commissioners; Jim Puckett is a member of the Republican minority. Both ardent anti-toll leaders are viewed as tried and true allies on the Exit 28 Ridiculousness Facebook page. Cotham participated in a rain-soaked anti-toll parade in October. Puckett says every time he goes into a room to talk about the toll plan, he converts everyone in the room. Both say the NCDOT is "completely out of touch."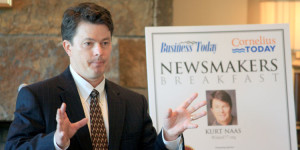 Kurt Naas
A Concord business owner who lives in The Peninsula, Naas was the lone voice crying in the dark about the toll plan literally years before anyone. Four and five years ago, tolls were perceived by the policy wonks—who acted like they were smarter than everyone else because they understood the arcana of the NCDOT—as a good thing. Naas disagreed on both a fundamental and intellectual level and organized the WidenI-77.org anti-toll group, earning the enmity of former electeds in Cornelius and Huntersville. The WidenI-77 lawsuit will be heard in court in January. A wide variety of businesses have indicated their support, including significant Cornelius enteprises like Aquesta Bank, Champion Tire & Wheel and Sperry Van Ness Commercial Real Estate.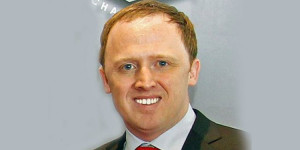 Greg Wallace
His father may be a household word in the racing industry, but Greg Wallace at age 35 has more than come into his own in the I-77 toll debate. The son of Rusty Wallace is one of the key strategists in the I-77 Business Plan, along with former Chamber Chairman John Hettwer and Chamber CEO Bill Russell and Chamber Chairman Mike Russell. A resident of the Westmoreland neighborhood, he organized the pre-election survey of elected officials on where they stood on the toll issue. Dozens of candidates and future candidates responded, including NC Sen. Jeff Tarte and NC Rep. John Bradford; the mayors of Cornelius, Davidson and Huntersville did not. Wallace is vice president of brand management and corporate communications at Rusty Wallace Racing. The motorsports industry, which relies heavily on trucks, was the first industry category to fully get on board with the toll fight.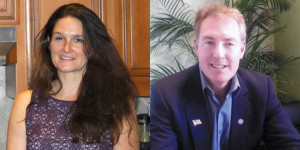 Diane "Dee" and Dave Gilroy
Wife and husband seem to operate very independently on the anti-toll battlefront, but they're both outspoken about their opposition. Dee rode her bike to a private fundraiser to hand Gov. Pat McCrory the results of her independent investigation of Cintra and parent company Ferrovial. (She's also given her findings to the North Carolina Inspector General.) Husband Dave was an early, outspoken opponent of the tolls, battling both Mayor Lynette Rinker and Mayor Chuck Travis on toll issues. He has been labeling the 50-year I-77 toll plan "utter absurdity" and "shameful" for years. He was one of the two dissenters as the toll plan moved through our government dating back to when Jeff Tarte was mayor. Jeff Hare was the other.