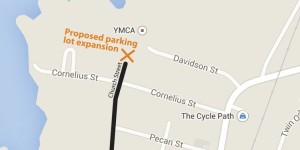 Cornelius commissioners will vote on a new parking plan for the YMCA, located on Davidson Street. Although the plan would basically expand their parking from 252 to 317 spaces, it has been a proxy for connectivity issues around town. The new plan includes an entrance from Davidson Street to an existing parking lot, but does not include any connection with Church Street.
"This expansion is primarily geared to an existing parking and circulation issue and not because of a building expansion or growth in attendance" said Senior Town Planner Jason T. Pauling. "By providing the additional driveway cut off Davidson Street, the overall site circulation will be improved."
The plan was approved by the Planning Board in July, although the chairman of the Planning Board flatly stated he was in favor of a connection to Church Street.
Also at Monday's meeting, the commissioners will conduct a public hearing on 5.6 acres of property located on the corner of Charles Towne Lane, Jetton Road, and Beaufain Street. Best Equity Ventures Organization LLC, in association with Simonini Homes is requesting a zoning change to Village Center – Conditional Zoning (VC-CZ) to develop a 22-lot single family subdivision at that site.
The meeting begins at 7 pm in Town Hall on Catawba Avenue.