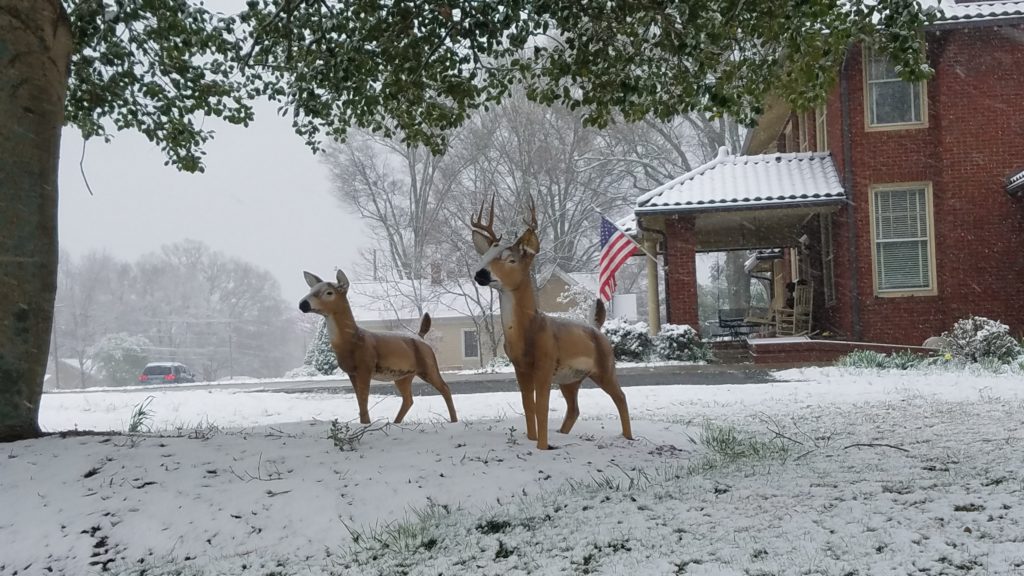 March 12. We promise not to call it white stuff; after all, it couldn't possibly be snowing in March, not after it's already been nearly 80 degrees. Ha. The National Weather Service says we'll get more snow, mainly before 11 am. At 9 am it was hovering between 32 and 33 degrees, but it will get up near 47 later. Northeast winds are at 5-ish mph.
Roads are nice 'n' clear and there's no need to panic buy bread, no matter how much fun that is.
Chance of precipitation is 80 percent, according to the weather service. Total daytime snow accumulation of less than a half inch possible. Tonight will be mostly clear, with a low around 29. Light east southeast wind.
Tomorrow there will be a slight chance of rain, freezing rain, and sleet between 10am and 11am, then rain likely. Increasing clouds, with a high near 42. East northeast wind 5 to 8 mph. Chance of precipitation is 60%. Little or no ice accumulation expected. Little or no sleet accumulation expected.
MAIN PHOTO: Ed Bost's deer at the corner of Washam Potts and Main Street.