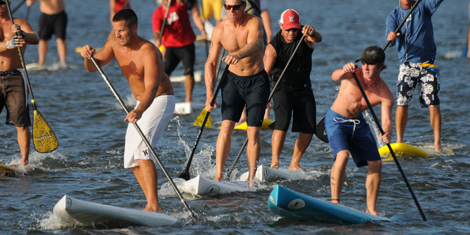 March 11. My Aloha Paddle and Surf, along with NASCAR crew chief Ray Evernham, will host Stand Up for Autism benefitting autism services May 8-9, at Port City Club on West Catawba.
The event will feature competitive and recreational races, which are open to the general public. The race is sanctioned by the World Paddle Association (WPA) and will be the first regional points race on Lake Norman.
"After four years of promoting paddleboarding and introducing so many of our residents to the sport, it is so exciting to host a WPA race here in Lake Norman," said Rob Bennett, owner of My Aloha Paddle and Surf.
Stand Up for Autism will support IGNITE, a community center in Davidson for young adults with high-functioning autism or Asperger's Syndrome. IGNITE offers activities, skills training, and educational workshops that foster independence for its members. IGNITE is operated by the Autism Society of North Carolina. It was founded in 2012 by Evernham whose son has Asperger's Syndrome.
The event will begin Friday evening with a kick-off party from 6-9 p.m. at Port City Club, which will include food, beverages, silent auction and music. The awards ceremony on the beach will begin at 11 a.m. and be followed by a luau featuring the Island Hula Girls along with island music, food and fun activities for all ages.
Sponsors and volunteers should contact det@rayevernham.com. All event proceeds will benefit the IGNITE Community Center and Autism Society of North Carolina. To register: https://paddleguru.com/races/StandUpforAutismWPAPaddleboardRace.