Jan. 20.  By Dave Vieser. The Cornelius Town Board unanimously approved a $916,146 contract with RES Carolinas to begin the restoration of Willow Pond just east of Hwy. 21.
When completed, the project will bring the stream back to a more natural habitat with the removal of an earthen dam and stream/bank grading and restoration of approximately 4,360 linear of stream which include sections of McDowell Creek and three unnamed tributaries.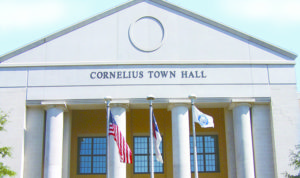 "This project will improve water quality for the tributary of McDowell Creek and provide a better habitat for natural vegetation, fish, and animals," Assistant Town Manager Tyler Beardsley said at the board meeting last night, Jan. 19.
The portion of the project included in the contract starts at Nannie Potts Lane and will repair some of the most severely eroded areas just south of the dam as well. The project ends near a vehicle storage lot.
Beardsley said the town's goal is to continue the project if funded next fiscal year to extend beyond the project area to Coachman's Wood Lane.
The Town received grant funds and is partnering with the County for $500,000 of the total contract cost. RES, based in Mt. Airy, has done work with Mecklenburg County and the State, including a current project at Fisher Farm Park in Davidson.