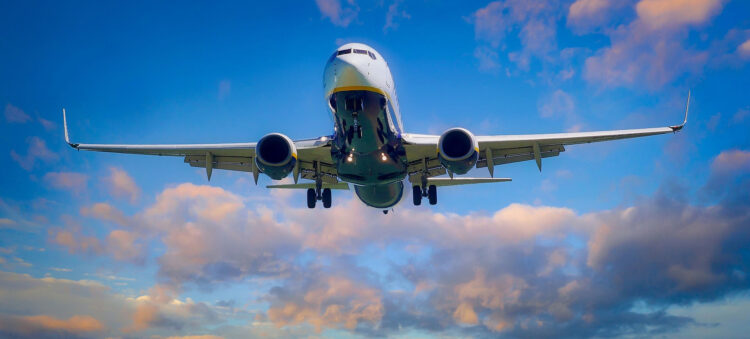 Nov. 28. By Dave Vieser. As many people have noticed, jets traveling to Charlotte Douglas International sometimes fly quite low as they undertake their final approach.
What causes this and what can be done about it? Sayle Brown, who serves as the Cornelius representative on the Charlotte Airport Community Roundtable, addressed these issues at the Cornelius Town Board meeting of Oct. 17. We also investigated this issue independently.
Weather plays a role
CLT has two basic directions for their runways—southern runways and northern runways. Planes normally land and take off into the wind, so when the wind is from the south, which is more frequent in our region, especially in the summer, planes will descend over Cornelius and vicinity as they approach for a landing. That's when our jet noise is the worst. When winds come from the north, planes will take off and ascend quickly before reaching our area, and that causes much less noise.
Another factor: The airport is back to nearly full operations after a two-year reduction during the pandemic.
What's the breakdown between north and south runway usage?
The airport officials claim it is 50/50, but personal observation as well as the National Weather Service in Greenville/Spartanburg SC indicate that the south/southwest/southeast winds are far more common in our area, especially during the summer when people are outdoors and likely to be more aware of jet noise.
It seems to have been worse recently.
What happened?
Brown says it is due in large part to the manner in which the controllers are routing the planes as they approach the airport. "Ideally, these planes would be routed north of us, over Mooresville at an altitude of about 6,000 feet, then turn and fly down the main channel above the Lake and begin descending on a 3 degree glide path at a lower power setting in a straight line towards the runway. However, what the controllers are doing is routing them over our area while descending  them to a height of  3,000 feet and then have them turn toward the airport. That 3,000 feet makes a big difference when it comes to jet noise. They are literally cutting the corner when they route them over Davidson and Cornelius."
Why do they route them in this manner?
Aviation officials claim this routing saves fuel and cuts a minute or two off flight times, which can add up in a busy airport like CLT. They also claim that routing them otherwise would be more expensive and burn more fuel—not good for the environment. It's a balance between environmental issues of sorts: noise vs. fuel use, as well as costs.
How to complain
• Via phone: 704-359-HEAR (4327)
• Online: www.cltairport.com/community/noise/file-a-noise-complaint/ and www.planenoise.com/cltairportnoise/
Charlotte Douglas also offers an aircraft noise informational tool for the public. The Flight Tracker public portal provides public access to flight data and flight tracks around CLT. This system allows for better reporting and more timely information related to aircraft flight patterns.