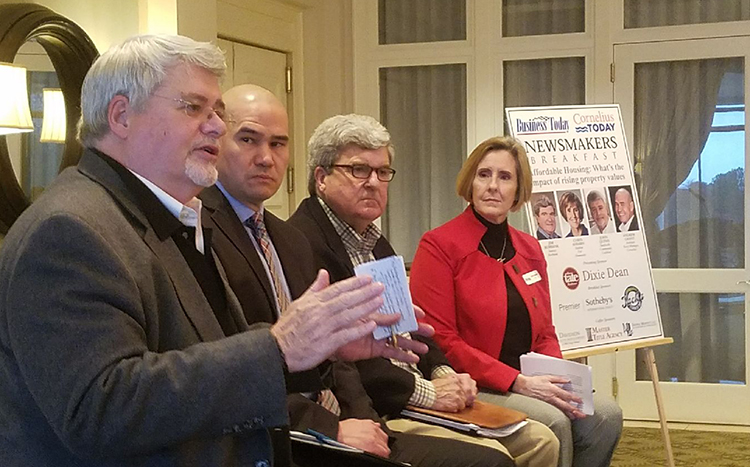 By Erica Batten. A sense of home is foundational to quality of life, according to Chris Ahearn, the new director of Our Towns Habitat for Humanity. She was a panelist at the March Cornelius Today Newsmaker's Breakfast at The Peninsula Club. The topic: affordable housing.
Ahearn, a longtime volunteer at Cornelius-based Habitat, said that when residents have a home of their own, they can develop a long-term sense of stability. Neighbors look out for one another. Kids become involved in sports and clubs. Citizens feel they have a stake in town issues.
Ahearn also said that homeowners' ability to build equity is an important part of that sense of stability.
Panelist John Quinn of the Smithville Community Coalition agreed. "Many of us have our wealth from being in our home," he said. Homeowners use equity to afford college and other major expenses.
The other two panelists, Jim Burbank of the Charlotte-based home building company Saussy Burbank and Cornelius Assistant Town Manager Andrew Grant, echoed the premise that affordable—or workforce—housing is an important topic that needs to be addressed by both public and private sectors.
What "affordable" means, how to assess housing needs, how to fund affordable housing, and how best to implement it—those are the sticky details that underlie the issue.
Priced out of our town
"Cornelius housing has priced out the blue collar families for years and its just getting worse​," one Cornelius firefighter ​says. Meanwhile, there is a family living on the back porch of a home near Cornelius Elementary School for $900 a month.
Grant said local government must conduct workforce studies to determine whether needs might be best met through single-family units, apartments, or some mix of those. Towns must also consider how population density will impact schools, traffic, emergency services and other infrastructure.
"That may evoke some changes in our land-use plan," Grant said.
A 2014 study found that only 10 percent of Cornelius's workforce lives in town. Among the North Mecklenburg towns of Cornelius, Davidson, Mooresville, and Huntersville, only Davidson had a lower proportion of its workforce living within town limits.
Burbank called teachers, police and firefighters "the most invoked group" in the discussion about how to supply workforce housing within a town. The average income for Mecklenburg County teachers was $48,500 in 2015-16, according to CMS data. Glassdoor.com puts Charlotte-area police officers' average yearly salary below $50,000.
The average Cornelius home sold for more than $350,000 in 2015.
Perhaps teachers and first responders are "most invoked" because of another sticky detail surrounding affordable housing: the "not in my backyard" mentality, sometimes called NIMBYism.
Charlotte Observer columnist Billy Maddalon addressed NIMBYism in his recent piece about tiny houses and the city's proposed Neighborhood Character Overlay Districts.
"Charlotte faces a true crisis with its lack of affordable, workforce housing," Maddalon wrote. "For the purposes of this conversation, if small houses = small incomes and small incomes = undesirables, then small houses = undesirables."
And while the term "undesirables" was not invoked by anyone during the Newsmakers Breakfast discussion, panelists did say that planners should follow the example of other towns that have successfully incorporated workforce housing into the local aesthetic.
Success stories
Charlottesville, Va. is a model for mixed-income development, Quinn said. The architectural integration means that "you can't tell what's 'affordable.'"
Quinn said the historically black, "land-rich" Smithville community will get an aesthetic upgrade as part of revitalization efforts. "The path forward is through mixed-income [development]…not to displace people out of their community," he said.
However, the Town of Cornelius has acquired several properties in Smithville because of unpaid taxes. "It's hard to control the tidal wave of rising land values," Grant said.
There is no single solution because there are multiple problems, Burbank said.
"The key for me, from a private-sector viewpoint, is for public money to get in there early," Burbank said. Towns placing land in reserve for future development can help ease the burden of rapidly-increasing property values on those seeking affordable housing.
Davidson is one of three North Carolina towns—coastal Manteo and another college town, Chapel Hill, are the others—with an affordable housing (also called "inclusionary zoning") ordinance.
Enacted in 2001, the Davidson ordinance originally required that for every eight new housing units, one of them, or 12.5 percent, had to be affordable. Developers are allowed to pay a fee in lieu of housing, which goes into the town's modest affordable housing fund. As of last year, 73 units had been built under Davidson's affordable housing program.
And while Davidson's program is aimed at easing the pressure of rising property prices, developers said they've had to personally subsidize the required affordable units–and that this burden will increase as land prices continue to rise.
Real benefits
Despite challenges, panelists and attendees at the Newsmakers discussion cited both the benefits and the real desire to see local government addressing the issue. When housing is affordable, they said, people who might have spent half or more of their income on housing now have more money to budget for health care and nutritious food. Planning housing in tandem with public transportation may also open financial options as families need fewer vehicles to reach school and work.
Previously underutilized land ​generates taxes​. And affordable housing promotes a healthy lifestyle and sense of community.
Jim Burbank pointed to Davidson's Bailey Springs subdivision's successful implementation of the mixed-income model. Five out of 17 units were built through Habitat for Humanity.
In addition to new housing, community impact grants provide emergency repairs, infrastructure, and down payment assistance, all aimed at helping lower-income residents obtain homes and stay in them.
Sara Thomas, a board member of Pine Lake Preparatory in Mooresville who attended the discussion, said that diversity supported by affordable housing is key to teaching children about empathy and how to live in an inclusive world.
"I can't force diversity at our schools," Thomas said. "Our schools are a reflection of our community."
What is Affordable Housing?

A common measure in the U. S. defines home
affordability as spending no more than 30 percent of gross income on housing, including utilities. This measure does not take into account other fixed expenses such as health care, transportation, child care, nor does it include debt-to-income ratio.
FURTHER READING/RESOURCES
http://www.townofdavidson.org/DocumentCenter/View/7536
http://apps.urban.org/features/rental-housing-crisis-map/
http://ww.charmeck.org/Planning/Commission/Resources/2016_11_Nov_07_AffordableHousingOverview.pdf
http://crossroadscorporation.org/https://www.ourtownshabitat.org/
https://leadingonopportunity.org/report/chapter-1/
http://cha-nc.org/http://hdproperties.org/
http://mosaicdevelopmentgroup.org/
http://www.urbanministrycenter.org/
https://www.trulia.com/home_prices/