Sept. 27. By Dave Yochum. A commuter rail line serving North Meck looks more and more like pie in the sky, despite transit oriented developments—like Antiquity in Cornelius and Bryton in Huntersville—that were built around promises made by Charlotte leaders over the years. North Meck voters have had a history of supporting transit, dating back two decades.
All that said, it hasn't happened, even after Cornelius, Davidson and Huntersville voted for a transit tax in 2007 primarily based on the promise of commuter rail arriving from Charlotte.
Meanwhile, Norfolk Southern, the owner of the north-south rail line, has repeatedly thwarted efforts to open it to commuter rail.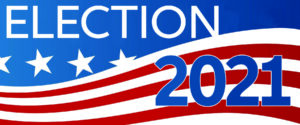 What to do? Traffic will worsen as COVID wanes and in-migration continues. All transit systems have pluses and minuses, but Bus Rapid Transit could be a solution. For some interesting background on the subject of rail vs. bus, click here.
We asked all nine candidates for Cornelius Town Board what they think about Bus Rapid Transit. We ran their responses in reverse alphabetical order this time. (Their answers to other questions have been in alphabetical order.)
Tricia Sisson: Absolutely! As we all now know, the Red Line is not coming to Cornelius anytime soon, so we need real solutions to our transportation challenges. With the approval of Sefton Park, Bus Rapid Transit will be a key mode of travel for residents' commute and for visitors to Lake Norman. The approval of this project will help expedite BRT to N. Mecklenburg as the hotel & conference center will be a destination for Cornelius. In addition to BRT, the NCDOT projects that will improve intersections, travel times and add capacity to our roads and new bike lanes will provide much needed transportation improvements in Cornelius.
Todd Sansbury: Based on increasing traffic density, alternative forms of transportation are necessary.However, the choices depend on local demands, and we don't want to see buses with no riders. Considerations include local traffic as well as work commuters. Alternate transportation will only work if through traffic, which is allegedly 50% of the cars on our roads, choose to use these other forms. We must collaborate with neighboring towns to make bus transit and other forms accessible, affordable, and convenient.
Thurman Ross: As things advance in the future for Bus Rapid Transit it has the potential to address our road congestion directly. Looking at the next 10 years these vehicles will be autonomously driven, all electric and comfortable for the riders.The cost of operating this would be lower due to no human drivers which should result in lower fares. Also, the routing and the scheduling would be much better than now, which will result in more flexible, convenient and lower cost transportation options for riders.
Michael Osborne: Bus Rapid Transit is something Char/Meck should be prioritizing, and we should be active participants in those conversations. The traffic flow between Lincoln County and Iredell County is a major contributor to our traffic woes. I do not believe BRT will solve this issue. The question I want to prioritize: What else is within our control to anticipate, avoid and reduce gridlock in hot spot areas around Cornelius? The answers from this question should directly impact the Town Board's prioritization for the Master Vision of Cornelius for the next 10 years and be reflected in any new project we approve/disapprove.
Michael Miltich: Yes. Transit is an important component of the region's transportation solution as the region grows. I serve on the CONNECT Beyond Policy Advisory Committee. This initiative's goal is a coordinated transit system across the 12 counties, including 19 transit agencies and 2 states. Bus Rapid Transit (BRT) to North Mecklenburg is one of the high capacity corridors in this plan. Also included are a robust bus service , multi mobility accommodations, and urban-rural connections. The plan envisions a transit system that is timely, safe, equitable, and effective to give citizens a real option other than the Single Occupancy Vehicle (SOV).
Dave Gilroy: MAJOR priority. A modern, technologically advanced Bus Rapid Transit system has the potential to address chronic road congestion directly. In the next 10 years, these vehicles will be autonomously driven, all electric, and extremely connected and comfortable for riders inside. Without human drivers, operating costs and fares will go down dramatically. Advanced routing and scheduling can be far more dynamic and optimized to real market needs than ever before – creating a flexible, convenient, and low cost transportation option for thousands of new riders.
Colin Furcht: I have never used the bus system here in Cornelius. I do believe it is an important way to give residents access to other parts of the area. I will say that none of the conversations I have had with residents over the past few months included this topic so I do not see this as a priority. That said, having a safe, efficient and cost-effective transit system should always be on our list of programs for residents. If residents truly want to see this get more attention, I welcome their input. I do feel we have higher priority topics including Infrastructure and Growth.
Jim Duke: Yes! Keeping cars off the road with intelligent and responsive alternative transportation venues helps the environment, traffic, and accommodates modest budgets. It is a service provided to us and we should be supportive of any form of traffic easement.
Denis Bilodeau: Given the complete failure and poor prospects for light rail service to the north Mecklenburg Towns, Bus Rapid Transit (BRT) may be the most viable commuter solution in the near term. Today however, our mostly empty bus park and ride lots confirm that Covid has changed the way / where people work. The full implementation of BRT appears to be many years away and commuter patterns may have permanently changed. Many important questions remain to be answered such as where will the Cornelius stop be located, what new taxes will be proposed and will there be a direct connect to the airport? Until these important issues have more clarity, BRT is not a top priority.
Early voting
Early voting begins in Cornelius Oct. 21 at Town Hall, as well as six other locations around the county. Election Day is Nov. 2. We have more local election coverage coming in the October print edition. Click here for more info on Early voting.