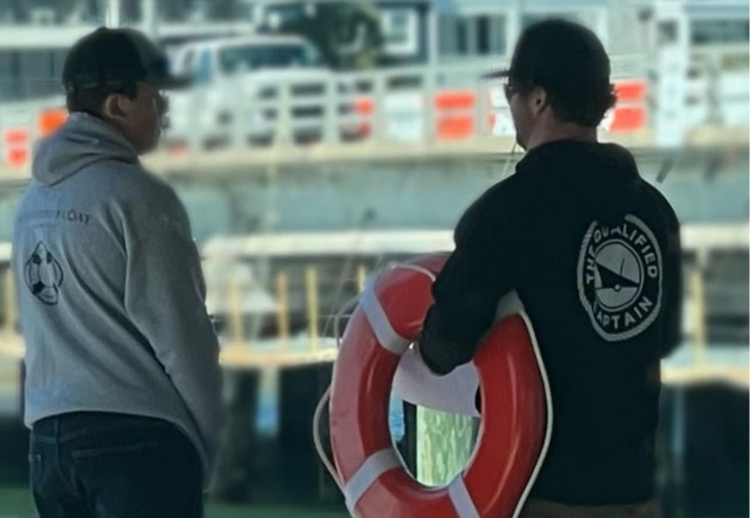 March 27. The Devoted Float, a Cornelius-based awareness and resource organization focused on drowning prevention, has teamed up with The Qualified Captain, the water industry's leading expert on safety, and West Marine, North America's marine supply resource leader, to launch a major national campaign that encourages the installation of waterside lifesaver rings throughout the country.
Cornelius teen
The Devoted Float was started by Cade Redmond, 13, after he witnessed the lake drowning of a young man last year off Brigadoon.
Cade, who launched Float it Forward after the drowning, is working locally with the Lake Norman Marine Commission, state legislature, law enforcement. His parents are Elise and Douglas Redmond.
Recognizing that a float would have likely saved this man's life, Cade decided to reach out to Aaron Stasiak, aka "The Qualified Captain," with more than 1 million followers on Instagram, to help him spread the flotation message.
As Cade recalls in contacting Aaron shortly after the drowning, "I reached out to you, you responded right away and we got to work."
The pair have been non-stop with their message since the beginning, and as demand for these lifesaver rings has continued to grow due to their efforts, both recognized the need for a retail partner to help them provide massive and expeditious distribution of these floats to their fellow water safety enthusiasts.
Team collaboration
West Marine is supporting Cade and Aaron's effort.
"We are so excited to be partnering with The Devoted Float and The Qualified Captain. Safety on the water is core to our organization and our expert staff of boaters that are here to help share their expertise to other boaters so they can stay safe and enjoy the water," said Chelsea Roller, Social Media Specialist for West Marine.
The collaboration between The Devoted Float, The Qualified Captain and West Marine allows for massive impact in changing the narrative of open water drownings in the United States.
Background
While lifesaver rings are often found at pools and on boats, rarely are they spotted on docks, piers and other water access points. Through this effort, the three industry leaders are looking to change the perspective on the need for flotation when near open water.
Federal waters are consistently governed,  but lakes and rivers are regulated by state and local authorities, with inconsistent safety guidelines when it comes to flotation installation. Accidental drownings in these types of waters can often be mitigated with the use of a readily accessible flotation device and it is a goal of this trio to help save lives.
West Marine
West Marine has been coordinating its marketing and distribution channels to ensure the ongoing flotation awareness campaign grows tremendously along with a streamlined fulfillment process. The company plans to feature these livesaving devices through its multitude of website, social media and direct marketing avenues as well as highlight the program in May which is National Water Safety Month.
Lifesaver rings can be found on both The Devoted Float and The Qualified Captain's websites and instagram pages, with direct links to West Marine for fulfillment.