INTERVIEW | By Rhonda Beck. Wes Choplin says his culinary roots are in Southern cooking. His grandmother prepared all week for Sunday dinner and her fried chicken is still one of his favorite meals. His mother and father were good cooks as well.
The owner of Choplin's Restaurant "just kind of learned" about food growing up in Winston-Salem. He went on to the prestigious Culinary Institute of America after washing dishes at a seafood restaurant as a teenager.
Choplin has made a name for himself among foodies as well as the disadvantaged. He served more than 700 meals a week to kids when when schools were shuttered due to the pandemic. He distributes sleeping bags and blankets to the homeless. In fact, customers at Choplin's get a complimentary appetizer if they bring one in to the restaurant.
We caught up with Choplin over a cup of coffee. Here's some of our conversation:
Do you have a favorite dish you like to prepare at home?
Of course, it would have to be something Southern, soul-warming. Probably like a slow-cooked stew, especially this time of year. In the summertime, maybe some nice flank steak with some fresh vegetables.
Have you cooked for a celebrity?
I did cook for B.B. King. That was in Winston-Salem. He was staying at a hotel and he was doing a concert. I also got to cook for Alicia Keys. She was in Charlotte… I always joke with the staff and say, 'Hey, if Alicia Keys calls, take a message, because I'm busy.'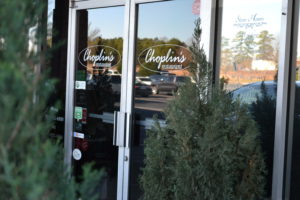 What's a customer favorite at Choplin's?
Our seafood selection. We normally have Chilean sea bass and halibut depending on if it is in season…Our scallops are delicious. Our shrimp is fresh from the North Carolina coast. And our steaks are good.
Unusual food combination you like?
Well, there was one dish that I made…a value cut from a strip loin, but it looked like a candy bar–like a Snickers. I was looking at the steak one day and I thought, 'I'm gonna call it a candy bar steak.' So I made a savory-type chocolate sauce to go with it. I think I used port wine, some chocolate and it had almost like a demi-glace kind of base for it. People still ask about it today. I haven't made it in a while. Maybe it's time.
Hobbies? Favorite shows or movies?
I love to fish. At the lake, pretty much around here, and some streams in the mountains. I love the outdoors– hiking, canoeing. You're in the kitchen and you get outdoors and it's like 'Wow!' And I'm a comedy guy. Not really into dramas. But I like a really, good, mindless comedy. The classics.  "Planes, Trains and Automobiles." John Candy. Steve Martin. Chevy Chase.
The new Lost Worlds brewery nextdoor must be good for business.
We have a great relationship. We're actually helping them out with some of their food. During covid, they've allowed us to have some guests dine over there with our menu and keep social distance. We don't sell alcohol over there, but they sell wine and their beer.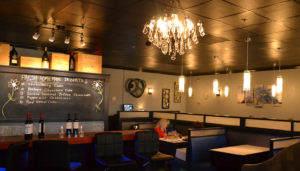 What's happening in 2021?
I would like to offer some more of the super foods. We do offer some now. Our brussels sprouts. We use dried cranberries. We've been using some acai berries. To be able to put some of those superfoods in with the dishes–it's the right thing to do.
How do you recharge?
Try to get rest. That's really the key. And just try to take care of myself.
Favorite flavors? Favorite ice cream?
I love Thai flavors. I like bold flavors, spicy. A favorite ice cream? You know what; it was unique. I made it in school. It was a custard-based ice cream that had a touch of saffron.  It was very different and very good.
You're a force for good in the community…
Well, none of this could have happened without the staff and especially Char Kluvers, who is our Front of the House Manager. She's definitely the glue of the operation. As far as customers—dine. Do takeout. Every little bit adds up at the end of the day for the small business owner. And that's across the board. The clothing shop. The specialty shop. If everybody did one act of kindness a day, it would change the world. Like just park away from the front door at the grocery store, so the elderly couple can have a parking spot. Just one kind act a day.